Budget Locksmiths Nottingham are firmly intent to provide an available 24/7 service to repair all uPVC doors based upon reliability and workmanship that is second to none. We understand that most door issues are generally unforeseen, especially when finding it difficult to lock or unlock your door therefore requiring immediate attention of a trained specialist, this is where our 24 hour Emergency Nottingham uPVC Door Repair service becomes required. Prior to dispatch of our Nottingham PVCu Door Repair Specialists we will quote accordingly to your description of the problem, it's important that you describe the issue as best to your knowledge as possible, we'll provide a quote to repair and replace parts to reflect the issue, so that you have the best and most accurate quote as possible. Upon arrival our trained personnel will first assess your door to source the route of the problem, this way our repair man will explain which part was needing to be replaced and the reason behind it, please remember our Nottingham uPVC Door Repair specialists are approachable and will happily explain the repair process to you and give before and after advice, if you have any questions please don't hesitate to talk to them about it.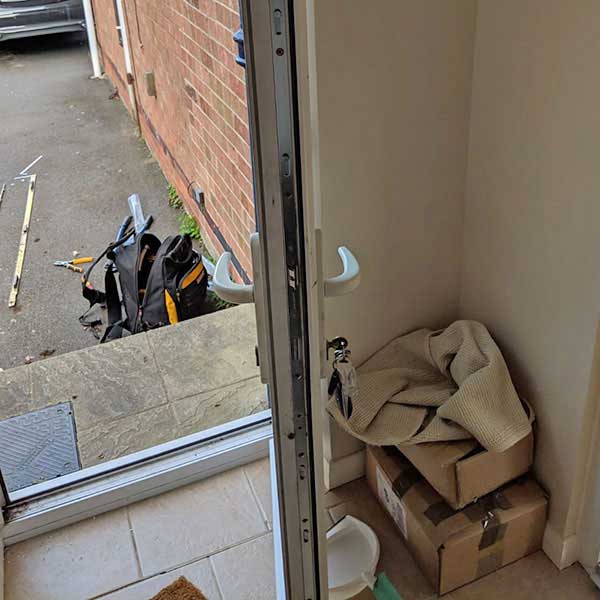 There are many options available via our Nottingham uPVC Door Repair Service that will save you the cost of a new door. Budget Locksmiths Nottingham have years of experience and knowledge on how to repair your uPVC door get it working again and looking as good as new. Let's have a look at some of the issues you may have with your uPVC Door and how our exceptionally trained team can help you.
uPVC Door Handle
Repair Nottingham
One of the first signs you will notice that your uPVC door has a problem is via the handle. The normal position for a handle is horizontal and it doesn't matter what kind of handles you have on the door, most handles work the same way on the inside. Many replacement upvc door handles are supplied with a door spring cassette that helps to bring the handle lever to a horizontal position.
Other types of handles that have a spring inside them will be an off centre spring or a centralized spring and both of those do the same job, however if the spring on your handle has already been changed and the handle is still loose, then the door is likely to have a problem with the mechanism. A handle can also have two spindles which is known as a twin spindle where the handle on the inside of the door sits on a different spindle to the handle on the outside of the door, giving each of them their own centre, this combination allows the door to automatically lock behind you and will need a key to regain entry. If you would like such a handle or have any type of handle that needs repairing or replacing, Budget Locksmiths Nottingham have one of the largest selection of exterior, interior and high security door handles in a range of different finishes for you to choose from. Centre measurements available are 48mm, 68mm, 70mm, 85mm, 92-62mm, 95mm and 117mm. The most common size for a uPVC Door Repair is 92mm and you can order from us online if you prefer to do the job yourself however we are happy to advise on sizing and come out and fit for any door at any time.
uPVC Door Hinge
Repair Nottingham
uPVC Door Hinges can be a pain point especially if the door starts to sag, it won't stay open or closed or hits the sides. For the DIYers amongst you this may be a job you are happy to do yourself and if you find that new parts are required, we supply a range of hinges in differing designs and colours available by well known brands such as Avocet, Fab & Fix, Fullex and Asec however if it is more convenient, Our team of local uPVC Door Repair Nottingham specialists are available at any time to come out and fix the issue for you.
uPVC Door Alignment
Nottingham
A well aligned door will have equal distances between the top and the bottom, but if you have a door that is fitted with a heavy pane of glass such as a uPVC patio door, over time the weight will bear down and cause alignment issues and difficulties with opening and closing the door. This is a problem best resolved by our local uPVC Door Repairs Nottingham team who are well trained in uPVC door realignment techniques and if appropriate will be able to reset your door.
uPVC Door Mechanism
Repairs Nottingham
A Multipoint Lock is known as a Mechanism which refers to the whole strip. The uPVC door mechanism has a series of hooks and rollers so that when you shut the door, it puts the locking points into position and then when you turn the key in the euro cylinder lock, it makes everything solid and secure. One of the problems that can occur with a mechanism is the constant metal on metal contact which over time creates a resistance which in turn can cause damage to the door or breakage to any of the small working parts inside the mechanism causing the lock to fail in either the open or closed position which can leave you locked out or the door unsecured. Budget Locksmiths Nottingham doesn't want to leave anyone locked out of their property or premises being left compromised by an unsecured door and that's why we offer a 24hr Nottingham uPVC Door Repair Service.
uPVC Door Gearbox
Repairs Nottingham
A uPVC Door Lock is known as a Multipoint Lock and the gearbox is fitted to the back of the faceplate. In 8 out of 10 different mechanisms the gearboxes are interchangeable however if you have a version that isn't interchangeable don't worry, we can fix that too by using an upgraded part which will provide the same level of security if not higher. Parts of the gearbox can fail over time with wear and tear or damage, there could be a mechanical fault or maybe the door has dropped and the handle has become harder to open and close, these are all possible faults that will cause problems with the gearbox in your uPVC door that can be repaired by Budget Locksmiths Nottingham door repair specialists who are able to remedy faults with the gearbox in a uPVC Door by assessing the problem and replacing faulty parts as required using non destructive methods of working by gaining non forced entry if necessary and leaving the rest of the door intact and without any further damage.
uPVC Door Panel Replacement Nottingham
uPVC Doors are very versatile in that they have panels and our Nottingham uPVC Door Repair Service includes panel replacement. Whether they have been damaged, worn or maybe you have moved house and want to remove that cat flap, Budget Locksmiths Nottingham only use replacement panels that are reinforced with mdf as the core opposed to cheaper alternatives that use only polystyrene. You can have a like for like replacement or perhaps take the opportunity to go for something a bit different. Our panels come in differing thicknesses 26mm, 27mm and 28mm and they are held in place with beading and packers which allows individual or multiple panels to be changed, replaced or upgraded.
uPVC Door Cylinder
Lock Replacement Nottingham
Nowadays good quality locks are a life necessity for our homes and businesses so at Budget Locksmiths Nottingham we make Locks our business by being able to supply and fit a comprehensive range covering all your security needs. Anti Snap Euro Cylinder Door Locks are proven to prevent access from intruders however if you already have a Euro cylinder lock fitted into your uPVC door and it is the wrong size, it will protrude from the door handle providing an opportunity for access by various tools that can be used to grab hold of it. Even the right size lock could be vulnerable without the Anti Snap feature. Our Anti Snap Euro Cylinder Locks go above and beyond Insurance Company Requirements and are available in three types, The Double Euro is the most common and has a key on both ends. The Turn and Key Euro also known as the Thumbturn Euro has a key on the outside, knob on the inside and is ideal for controlled access from one direction with easy access from the other. The Half Euro also known as the Single Euro is operated from only one side so it's ideal for a door that only requires unlocking or locking from only one side which is why they are most commonly used for garage doors or side doors. All three come in a dual finish of a nickel body with a brass plug making them an attractive option for both silver and brass handles on a uPVC Door.
uPVC Door Security Products
Nottingham
It is a good idea to regularly review the level of security in and around your home, business or premises. Budget Locksmiths Nottingham are happy to come out to do a Risk Assessment and Security Audit Free of charge to help you stay safe and secure. A sure way of increasing the level of the security on a uPVC Door is Shootbolts. Shootbolts are not used on single doors but Double Doors that are already fitted with a multipoint Lock and work by rods that extend into the floor or door frame on the slave door therefore giving maximum support to the centre lock already in the middle of the door. Some of the other items that you may benefit from are a Spy Hole, Security Chains, Restrictors or a WiFi Door Viewer Camera that can be linked to and viewed on your TV all effective tools allowing you to see who is at the door without having to give anyone access. Contact us to discuss any security concerns as all these items can be supplied and fitted by Budget Locksmiths Nottingham.
uPVC Door Glass
Replacement Nottingham
Replacing the glass is a common uPVC Door Repair in Nottingham whether it's because of damage or you wish to change the look of the door then look no further than our brochure with tempting designs, styles and colours that will capture your imagination, we can change your plain glass for frosted glass or perhaps you like leaded glass? Email or call for us to send out a brochure alternatively we are happy to chat and help you make the right decision. You can arrange for one of our team will come out to replace the glass in a uPVC door at your property, home or business with any other panels required at a time convenient to you and we are sure you will be delighted with the end result.
uPVC Door Accessories
Nottingham
Our uPVC Door Parts and accessories allow you to customize or enhance the security of your uPVC door, Budget Locksmiths Nottingham has a comprehensive range of additional parts and accessories for uPVC Doors by branded manufacturers such as Avocet, Fab & Fix, Fuhr, G.U. Mila, Secure Ring and Yale with items such as Keeps and Strikes, Letterbox Restrictors, Hinge Protectors, Door Chains and Door Restrictors. Our diverse range of uPVC Door accessories also include Letter Plates, Letterboxes and Numerals in a range of styles and colours for the front of the house. So many options to turn your house into a home and put your stamp on it.
Emergency uPVC
Door Repairs Nottingham
Budget Locksmiths Nottingham prides itself on providing a real-time Emergency uPVC Door Repair Service for residents, retailers, landlords, estate agents in fact anyone who needs a reliable experienced Locksmith to get the job done. Aiming to be with you within fifteen minutes of you making the call, we arrive with all the tools and materials to carry out a uPVC Door Repair and use non destructive methods of working. So whatever your emergency, we can be relied upon to do a good job and offer support just when you need help the most. For whatever reason you need to call Budget Locksmiths Nottingham, we have an honest 12 month warranty on all our uPVC replacement door parts and are the team to call for a fast and reliable service.