Bestwood has played a big part in history over the years and attracted many notable historical figures. Did you know that Bestwood Park was gifted to Nell Gwynne by King Charles 11? According to legend, the perimeters of the Park were set by Nell herself. As the story goes when staying at Bestwood Lodge, King Charles 11 and his guests would rise early to go out and hunt before breakfast and he would tease Nell for sleeping in and missing a good early mornings sport. The very next day, Nell was already sitting at the breakfast table before the King and his guests, claiming that she had already ridden out and to prove it, she dropped handkerchiefs all along her route. This area became Bestwood Park, which today is an important area for both recreation and nature conservation and the hunting lodge used by King Charles 11, is now the Best Western Bestwood Lodge Hotel. Locks were first crafted in the 18th century and would have been used on Bestwood Lodge when the was build was finished in 1865. Nowadays Budget Locksmiths Nottingham have the most secure, up to date locks on the market for the protection of properties, businesses, individuals and assets of Bestwood.
0115 772 2107.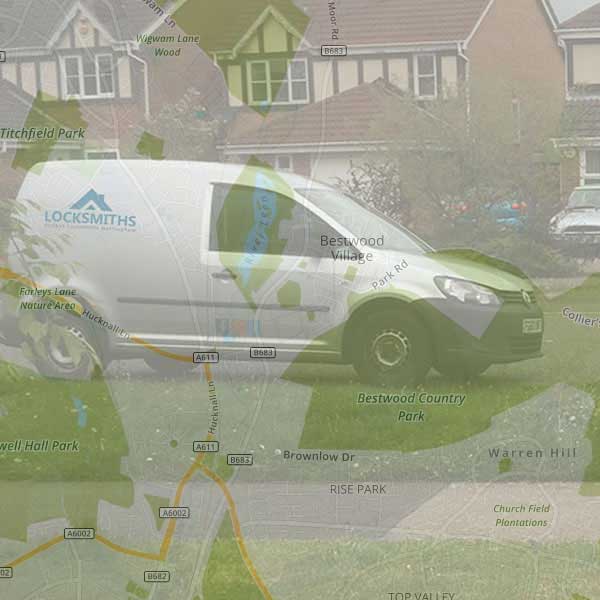 uPVC Door Repairs Bestwood
Although uPVC doors are a popular choice for households today Budget Locksmiths Nottingham also repair Composite Doors and Timber Doors. All Doors have similar components in order to work and at Budget Locksmiths Nottingham we are able to supply and fit guaranteed parts at budget rates. Our team of Budget Locksmiths serving the Bestwood area are experienced in all aspects of door repairs or replacement. We can also restore uPVC Door Panels including Doors with Glass and Panels. Our uPVC repair services include Realignment, Door Hinges, the Door Lock Mechanism, the Door Centre Case and any of the Door spare parts that may be required. All uPVC Door Replacement parts from Budget Locksmiths Nottingham come with a 12 month warranty warranty.
uPVC Window Repairs Bestwood
Why would you want the cost of a replacement window when in the majority of cases the parts of a window can be repaired. Whatever the problem with your window, the Budget Locksmiths Nottingham Team specialise in repairing all types of manufactured and fitted windows and uPVC parts that we supply and fit are Window Hinges, Window Gearbox, Window Lock Mechanism, Window Hook, Window Espag Handle also Glass Replacement and all part of our quality Window repair service is a 12 month warranty on all the parts. Budget Locksmiths Nottingham in the Bestwood area always have someone experienced on hand who will take the time to listen and offer solutions to your problem, or you can arrange to have a home visit to show us the problem if you find it hard to explain. You will not get any pressure and we don't hard sell, all our advice and quotes are free with no obligation so there is nothing to fear from giving us a call.
Window Boarding Bestwood
Windows are an easy target for vandals causing able to cause a large amount of damage in an instant or it could be damage caused through accident but whatever the reason a broken window at any time weakens the security of your home or business. Budget Locksmiths Nottingham covering the Bestwood area are ready to reassure you by offering a 24/7 Window Boarding Service. Our experienced Locksmith Bestwood team will arrive on the scene prepared to get straight to work with a strong boarding material and using the most secure technique of boarding from inside to prevent any unauthorized access, our trained locksmiths in Bestwood will not leave you in a mess, we even have a Clean Up process where we remove all of the Broken Glass and dispose of it for you.
With this service is available for Commercial and Residential customers alike, there is no limit as to how many windows need boarding at one time, all damage will be made secure until the Glass Replacement can be fitted the next day. We fit Double Glazing or Re-Enforced Glass Panes depending on your property type.
Lock Change Bestwood
Our friendly reliable Budget Locksmiths in Bestwood area are available 24 hours a day and can be with you in most cases within 15 minutes of your call if you have locked yourself out of the house. We can get you back in fast using our non destructive lock picking methods but that is the most dramatic scenario, so it's good to know we are also available to carry out lock changes at a time more convenient for you too or if you feel your current locks are not providing enough security for you and your family, we offer a range of Locks available to upgrade to. We are able to supply and fit a range of locks to meet your needs, Mortice Locks, Yale Locks, Euro Cylinder Anti Snap Locks, Master Key Systems, Mechanical Code Locks, Keyless Locks, Combination Wheel Cylinder Locks and more. Budget Locksmiths Nottingham are happy to assist you secure anything that you want a lock on including External and Internal door locks, locks for Patio Doors, uPVC Window locks, Garage Doors and Outhouse buildings. Residential or Commercial, give us a call anytime for a free no obligation quote.
New Doors Fitted In Bestwood
What gives your house a fresh new look more than a new front door? Budget Locksmiths Nottingham has a brochure full of uPVC Panel Doors or Panels with Glass and a stunning range of luxury Composite Door in designs and colours that are designed to please. We also offer a range of accessories to complement new or existing doors, Pet Flaps, Letterbox Plates, Numerals in a custom style and choice of colour, Peeholes, WiFi Door Viewer Camera, Door Chains, in fact there is so much you really need to browse through our brochure and we will be happy to give you a free no obligation quote.
Auto Locksmith Bestwood
Our Auto Locksmith Bestwood specialists are able to get you back into your vehicle at any time of day or night. It's a nightmare when you realize that your keys are still in the ignition, or left in the boot when you were getting the shopping out this is a time that you need an Auto Locksmith in Bestwood quickly. We cover the majority of makes and models of cars, vans, lorries, caravans, and motorbike top boxes using non destructive lock picking techniques on a 24/7 basis. Just give us a call or email our auto locksmith to find out if we support the make and model of your vehicle and you will get an answer straight away.
Emergency Locksmith Bestwood
If it's an out of hours Locksmith you need, Budget Locksmiths Nottingham pride ourselves on being available 24 hours a day 7 days a week for the Bestwood area. Have you locked yourself out? Locked the keys in the car? Got a Door that won't lock? A Window that has broken? Make the call, give us the details and we will despatch an experienced locksmith out to you all prepared and ready to do the job. Save our number in your phone so we are there ready whenever you need us.
Crime In Bestwood Nottingham
Nowhere is free from crime these days and Bestwood is no exception. Burglary and Criminal Damage are the ones that affect your homes properties and businesses. Budget Locksmiths in Bestwood can help you protect yourself by calling us for a Security Audit or Risk Assessment. Make sure you report all criminal activity to your local police.