In days gone by Hucknall was initially well known as a centre for Framework Knitting and later on became wealthy through mining that enabled the construction of three railway lines giving greater access in and out of Hucknall. Rolls Royce brought fame to Hucknall as the site where they demonstrated the first prototype of the Harrier Jump Jet. The monument erected to mark the great innovation, is known by locals as 'The Flying Beadstead' Although Hucknall has its fair share of famous actors and footballers the name that puts Hucknall on the map in life and in death is the poet Lord Byron who was also a revolutionary and a philosopher. He, alongside his daughter is buried in the well reviewed place of interest the Church of St Mary Magdalene. Nowadays, Hucknall has a town centre that was pedestrianised in 2017 and is used to keep the town centre alive by holding popular a market day each Friday and Saturday and now the friendly and reliable Budget Locksmiths Nottingham Team is available in the Hucknall area 24/7 ready to assist Residential and Commercial customers needing an experienced locksmith. Give us a call on 0115 772 2107.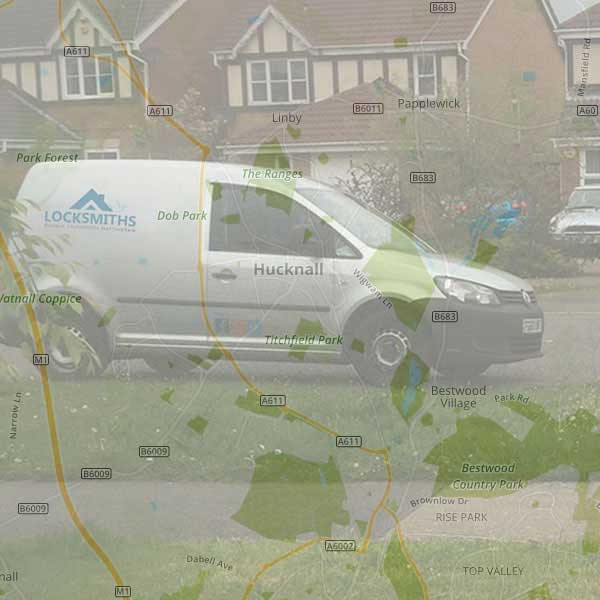 uPVC Door Repairs Hucknall
There are various problems that can affect the way that a door functions and luckily Budget Locksmiths Nottingham has a team that knows how to solve all of them. From problems with misalignment caused over time by the weight of a door possibly affecting the hinges or the locking mechanism, problems with Handles, Seals, Strips, Vents, Keeps and Strikes or the Lock Case, where different doors can have Lock Cases separate to the Lock Mechanism and so require a different solution. Maybe you have difficulty turning a key to lock the door, your key has snapped in the lock or the whole door locking and unlocking process is just getting too fiddly and time consuming then it's time to give Budget Locksmiths Nottingham a call to discuss the options available to you and receive a free no obligation quote at the same time. There is no pressure or hard sell tactics used, just a genuine desire to give you the best deal as we supply and fit all the spare parts a door could ever need and all with a 12 month warranty.
New Doors Fitted In Hucknall
If you have been thinking of a new look or a colour change for the front of your house, have you considered a new Front Door? Budget Locksmiths Nottingham have a large range of uPVC Doors available and also a stunning range of Composite Doors if an upgrade is what you are looking for. A call to Budget Locksmiths Nottingham will have you browsing through our brochure, selecting a new door and arranging a convenient day for fitting in no time at all.
Door Accessories Hucknall
uPVC Door Accessories can be a necessity or a nice to have and Budget Locksmiths Nottingham supply and fit them all. We can install or remove a pet flap, for extra security and peace of mind we supply Door Chains, Spy holes and even a WiFi Door Viewing Camera that is linked to your TV so that you can see exactly who is at the door before you open it. We supply and fit Letterboxes, Door Knockers and also Numerals for the front of the house in different styles and colours.
uPVC Window Repairs Hucknall
A broken window is a common fault that Budget Locksmiths Nottingham is called out for because we come out quickly to board the window up, maintaining comfort and providing security followed by a 24hr Glass replacement service. This is a service that our customers know they can rely on us to be there when they need us. Double Glazing can also be repaired, replaced and resealed. There are many uPVC Window repairs that can be carried out by our experienced Budget Locksmiths Nottingham team that will save you the cost of a new window set up, so don't suffer with misting, fogging, or condensation problems as we are able to supply and fit all uPVC Window parts including Espagnolette Locking Mechanism, Handles, Seals, Hinges, Locks, Lock Mechanisms, Gearbox along with security features such as Window Hooks and Cables. Give us a call for more information and a non obligation quote for any work you have in mind.
Commercial Locksmith Hucknall
Budget Locksmiths Nottingham works 24 hours a day, 7 days a week and can be with you within 15 minutes of you making a call and that is a vital service if it is the difference between keeping your business open or having to close because of security breaches or issues. Budget Locksmiths Nottingham understands that businesses need experienced reliable time conscious tradesmen to keep on top of issues that potentially could stop them trading and that is why our Commercial Locksmith Team, trained to carry out a wide range of professional locksmith services to the highest of standards using non destructive methods of working is one of the reasons why we offer a competitive Locksmith Service Contracts, providing peace of mind and a package tailored specifically for your business no matter how big or small. We don't charge a call out fee so you can confidently call us day or night without worrying about any hidden charges. To give you an idea of the type of jobs our Commercial Locksmith Team deal with include Master Key Systems, Registered Key Systems, All Types of Locks supplied and fitted such as Mechanical Code Locks, Keyless Locks, Keyless Combination Wheel Cylinder Locks. Safe and Vault Issues, all Commercial Door and Window requirements, Door Opening, Window Boarding, Roller Shutter Doors repaired, Security Door Grilles supplied and fitted, Door Closers supplied and fitted and Fire Safety Door Mechanisms are just a selection of what the team can do but if you have a specific requirement in mind then give us a call to discuss it, or book a FREE Security Audit and Risk Assessment where you could be catching potential issues before they become a problem.
Lock Change Hucknall
An alarm system fitted to your home, property or business will only alert you when the intruder has gained entry, so the type of lock that you have on your door to actually deter entry is vital. Do you already have an Anti Snap Cylinder Lock fitted? That's great, they are an excellent cost effective protection to have, but maybe after multiple break-ins or attempted break-ins you are considering an upgrade to deter intruders once and for all. Budget Locksmiths Nottingham urge you to consider a lock which is by far the best deterrent you can give to a door and proven to be unbeatable for burglary, the Brisant Ultion Cylinder Lock. All Brisant Locks meet Property Insurance Standards of the Ts007 British Standard. The Ultion Lock is Ts007 with a 3 Star Diamond rating and they even guarantee burglary prevention for 10 years, so much so that they will pay you £1000 if entry is made successfully by snapping the lock. Needless to say, because of the capabilities of the lock, it does come with a higher price tag but this lock is an investment and if you are interested and would like to know more, give us a call on 0115 772 2107.
Auto Locksmith Hucknall
Keeping on the move whether you drive a Car, Van or Lorry is vital so if you lock your keys in your vehicle then you will need the Budget Locksmiths Nottingham Hucknall Auto Locksmith Team who are covering your area. Our Key retrieval service is also available to motorcycle riders, it's a frustrating time when you realise you have left your keys under your locked seat compartment or lost the key to your security chain and disc lock, our professional Auto Locksmiths in Hucknall will still be able to help you!
When choosing an Auto Locksmith, irrelevant of vehicle type, you will want to be assured you are dealing with a company with fully insured and trained specialists offering solely non-destructive services. Our Auto Locksmiths in Hucknall will arrive fully equipped to safely pick open any vehicle lock whether it be the Door, Boot or other Compartment.
Snapped your key in the ignition? we can extract the key for you so that you can use your spare key, simply call to discuss your Emergency Hucknall Auto Locksmith requirement and we will advise you to the best of our knowledge.
Emergency Locksmith Hucknall
Window Boarding is a time critical service that we offer anytime of the day or night weekdays and weekends whether you are a Residential or Commercial customer where our team aim to be with you within 15 minutes of your call and that goes for any issue you have that requires a fast response from a Hucknall Locksmith from the Budget Locksmiths Nottingham company. Save our number in your phone for us to get to you quickly where we provide solutions to your problems. 0115 772 2107.
Crime In Hucknall Nottingham
Anti social behavior and much criminal activity can end up causing property damage as Budget Locksmiths Nottingham is aware and the local police for Hucknall work in partnership with residents and businesses in order to keep on top of crime in the area and so need your help in reporting any criminal activity observed in order to help make Hucknall a safer place for all.