In the heart of Sutton In Ashfield, you'll find Budget Locksmiths Nottingham, your local provider for a wide array of locksmith services. Our location allows us to serve both residential and commercial clients in Sutton In Ashfield with speed and efficiency. We understand that when it comes to security, time is of the essence. Our team of experienced professionals is always ready to assist, whether you're dealing with a lockout, need a lock replacement, or require help with a more nuanced locksmith task.
Our services are diverse and designed to cater to the unique needs of the Sutton In Ashfield community. We offer 24-hour emergency services, ensuring that assistance is available at all times. If you find yourself locked out, we can swiftly open your doors, reducing your inconvenience. We also provide window boarding up services for emergencies, commercial door repairs to keep your business operations uninterrupted, and shop boarding up services to secure your premises. We handle all door and window repairs, commercial lock changes, broken glass replacement, and broken key extraction. At Budget Locksmiths Nottingham, we're committed to the security of the Sutton In Ashfield community. Our dedication to providing quick, local, and affordable solutions has made us the trusted choice for locksmith needs in Sutton In Ashfield. Trust us to deliver reliable, affordable locksmith services, whenever you need them.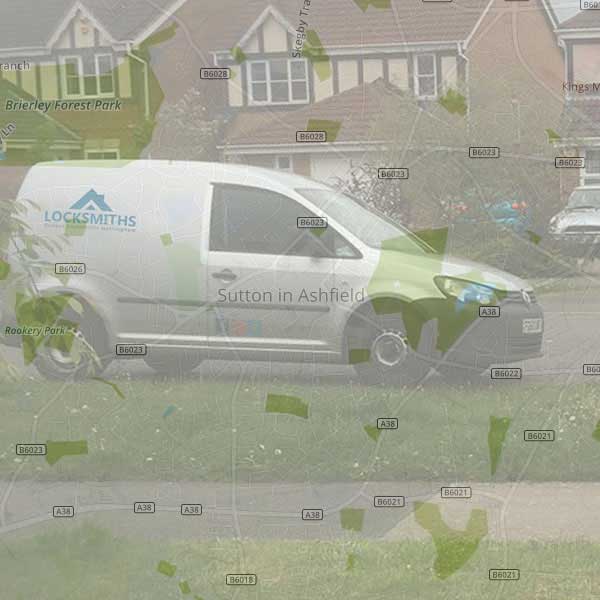 Emergency Locksmiths
What can a local locksmith do for you? Locked yourself out in Sutton in Ashfield? Need an urgent Lock Change in Sutton in Ashfield, Unexpectedly find yourself with a broken window that needs boarding up in Sutton in Ashfield? Our experienced team of Emergency Locksmiths in your area are able to respond to your call with a super quick response time at anytime of the day or night. Using non destructive methods of working we will get you back into your property with no damage to the lock or change locks by fitting a Euro Cylinder Anti Snap Lock as standard which comes with 5 Keys and a 12 month warranty or alternatively, any lock of your choice. Boarding up broken windows, doors or even a shopfront, we use the latest boarding techniques of fitting the boarding from the inside which gives more security and peace of mind. There is no limit to the amount of boarding to be fitted and we also offer a 24hr Glass Replacement Service but whatever your emergency, call the local Sutton in Ashfield Locksmith you can rely on from Budget Locksmith Nottingham. For your convenience we accept payment by Cash, Card or over the phone.
uPVC Door Repairs
Problem with your uPVC Door? How refreshing to know that there is a well established Locksmith company in Sutton in Ashfield that has NO Call out Charge, NO Unnecessary Fees and gives you a FREE No Obligation Quote before any work starts. The price quoted is what you pay. But what could go wrong with a uPVC door? On face value it looks it looks like a panelled board with a handle on but there is more to it than that. uPVC Doors are very versatile in that you can replace old or damaged panels, you can change panels for a different design, or allow more light in the house by replacing plain panels with glass panels that adhere to building regulations depending on where they are placed on the door. However parts of a uPVC Door that are subject to wear and tear are the Locks where it becomes difficult to turn the key or the key snaps in the lock. Handles that become stuck or floppy, Hinges that occasionally need realignment to bring the door back into line with all the other functioning parts. A misaligned uPVC Door may mean you have to use more force that normal to open or close it with a knock on effect of damaging the small parts within the full unit Lock Mechanism and the centre case Gearbox too. Budget Locksmiths Nottingham are able to supply any of the necessary replacement parts plus a local Sutton in Ashfield uPVC Door Repairs Locksmith to fit them who is friendly, courteous and takes pride in quality workmanship. You can email us with any problem you have with your uPVC Door or give us a call or request a call back at a time to suit you. It really is that easy.
uPVC Window Repairs
Why would you want to pay out for a new uPVC window when the majority of issues can be sorted by our uPVC Window Locksmiths in Sutton in Ashfield. Double Glazing Repairs can sort out that annoying condensation or misting problems and draughts caused by faulty seals can be remedied by resealing the window. Handles can become loose or stick and in the majority of uPVC Windows the lock is in the handle. This is called an Espag Handle and can be identified by the square spindle that extends out at the back. Also, there are a combination of multipoint locks that are compatible with this type of handle such as the Deadbolt, Cam Roller, Shootbolts and Claws. Espag Handles and any combination of these locks can be supplied by Budget Locksmiths Nottingham and fitted by our trusted Locksmiths in the Sutton in Ashfield area.
uPVC Window keys are small and can easily get lost or snap inside the lock, Hinges are subject to wear and tear, the Gearbox has small parts that can become loose or break. All of these issues can be corrected by sending us an email or by giving us a call to get your FREE No Obligation Quote and arrange a time that is convenient to you.
Occasionally replacing your window can be the best solution, for example if you have ageing wood windows. Whilst being thermally efficient they are also prone to rotting and warping if not maintained. Maybe it is time to consider a long lasting, uPVC maintenance free option. There are many benefits to having well fitted uPVC windows that are effective in giving you a warmer winter and a cooler summer, they make the home safer and lower energy bills and we have a super range of new uPVC Windows to choose from. So don't wait if you have a problem, give us a call and experience our 5 star Window Repair service in Sutton in Ashfield.
Commercial Locksmiths
Budget Locksmiths Nottingham are accustomed to operating within the Commercial Sector and our experienced team of Professional Commercial Locksmiths are available 24/7 providing solutions for problems unique to Retail and Commerce. The Locksmith team in Sutton in Ashfield deliver high standards of workmanship and are experienced in Vault Relocation, Removal and Disposal. The opening and repair of the Safe. Repair of all Commercial Doors and Windows and if you get locked out, we can open any door. A comprehensive list of locks suited to the Retail and Commercial Sector can be supplied and fitted. Mechanical Code Locks, Keyless Locks, Keyless Combination Wheel Cylinder Locks. Locks keyed alike. Registered Key Systems, Master Key Systems, Door Entry Systems. Fire Safety Door Mechanisms. Door Closers, Push Pads and Push Bars all supplied and expertly fitted. Our Window Boarding service comes with 24hr Glass Replacement and there is no limit to the size of area that needs to be boarded. To have a chat about how we can help you secure your business in Sutton in Ashfield and get a FREE Security Audit and Risk Assessment give Budget Locksmiths Nottingham a call for competitive prices and dependable Locksmiths you can rely on.
Auto Locksmiths
Our Specialist Auto Locksmith Team in Sutton in Ashfield operate a 24/7 Service as Budget Locksmiths Nottingham know how important it is to keep you on the move. Lost your Vehicle Keys? Locked your keys in the car or the boot? Don't worry, with a super quick response time of aiming to get to you within 15 minutes we will have opened the Vehicle door by using specialist auto lock picking tools specifically for Cars, Vans and Lorries causing no damage to the lock that will remain intact. We can gain access to retrieve your keys from inside the vehicle or the boot and return the keys back to you. We cover the majority of makes of models of Cars, Vans, Lorries and Motorcycles on the road today and the list is always growing so if you are not sure if your vehicle make and model is covered, give us a call. Services offered for motorcycles include the unlocking of the Ignition, Seat Compartment, Pillion Seat, and Security Chain Removal. We also remove keys snapped or stuck in the lock. So if you require any of our Auto Locksmith Services available in the Sutton In Ashfield area we are only a call away.
Crime Prevention In Sutton In Ashfield, Nottingham
Nottinghamshire Police are committed to tackling crime in Sutton in Ashfield. Having completed a number of visits to secondary schools they are embarking on a tour of the primary schools educating the young on the perils of violent crime. Stay safe and help the Police move forward in their task of making Sutton in Ashfield safer for all by reporting any observed criminal activity.