Situated in the lively area of West Bridgford, Budget Locksmiths Nottingham is your trusted local locksmith, providing a broad spectrum of services. Our team, made up of experienced professionals, is always on hand to deliver fast and efficient services to both residential and commercial clients in West Bridgford. We understand the importance of security, and our team is always ready to assist, whether you're facing a lockout, need a lock replacement, or require help with a more complex locksmith task. Our services are tailored to meet the specific needs of the West Bridgford community. We provide 24-hour emergency services, ensuring that help is always available when you need it most. If you're locked out, we can quickly open your doors, minimising your inconvenience. We also offer window boarding up services for emergencies, commercial door repairs to ensure your business continues to operate smoothly, and shop boarding up services to secure your premises. We manage all door and window repairs, commercial lock changes, broken glass replacement, and broken key extraction. We can also replace door handles, window handles, hinges, seals, and install additional security measures like night latches, lockable sash jammers for doors or windows. At Budget Locksmiths Nottingham, we're dedicated to the security of the West Bridgford community. Our commitment to providing fast, local and affordable solutions has made us a trusted choice for locksmith needs in West Bridgford. Rely on us to deliver dependable, cost effective locksmith services, whenever you need them.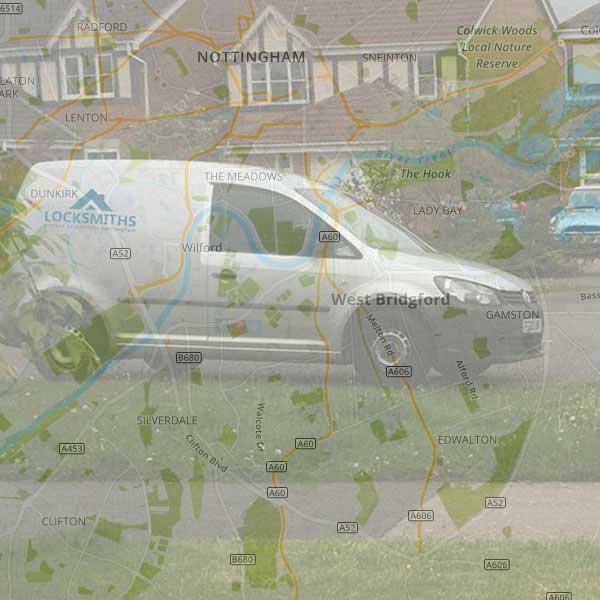 Emergency Locksmiths
Budget Locksmiths Nottingham maintains a year round 24hr Emergency Locksmith Service where we pride ourselves on providing a real time Emergency uPVC Door and Window Service in all areas of West Bridgford but whatever the problem we aim to get one of our unflappable experienced team of Locksmiths out to you in 15 minutes. For your convenience payments can be made by card or cash or over the phone. To be able to access our emergency number quickly make sure you keep our number handy or save it on your phone. You never know when you might need our locksmiths in West Bridgford.
uPVC Door Repairs
We have a friendly and experienced team ready and willing to fix any problem areas on Doors and Locks however even though uPVC is the most popular model of Door we repair, we also carry out repairs on Composite and Wooden Doors. Doors today are made to last and a feature of uPVC doors is that they are relatively maintenance free however from time to time faults do occur due to wear and tear or accidental damage and continuous use of a faulty door could lead to further difficulties. A common request with uPVC doors is faulty handles which we are able to repair or replace. Door Hinges over time maybe become misaligned or need adjusting causing problems with opening and closing the door, it could be an easy fix so get one of our Locksmiths in West Bridgford over to assess it. All uPVC doors have a lock mechanism and maybe a Lock Case too so if one or the other becomes faulty we can fix it plus supply and fit all parts that would be required. Locked yourself out of the house? Don't worry we can fix that too. Our Locksmiths in the West Bridgford area will be at your side with a super quick response time at any hour of the day or night and if any lock changes are required we fit Euro Cylinder Anti Snap Locks as standard that come with 5 keys with all our parts guaranteed for 12 months. Our team of Locksmiths in West Bridgeford are on hand 7 days a week to come and resolve problems on internal and external uPVC Doors and if we haven't mentioned a problem you are experiencing on the website, just give us a call or send an email, we will be happy to help.
uPVC Door Accessories
Did you know that if you didn't want to change a whole uPVC Door that individual panels can be replaced or changed. Maybe you fancy letting more light into a room and feel some safety glass panels in a previously solid door would do the trick. Budget Locksmiths Nottingham has a range of panels both solid and glass for you to choose from. Being able to make changes to a uPVC Door has the added benefit of being able to insert a Pet Flap or to remove a Pet Flap and replace it with a solid panel. Changing up the look of the front door can be done with adding a Door Knocker, a new Letterbox or putting up some coloured Numerals that come in a range of styles to suit all tastes. Some additional security accessories include door chains, spy holes and if you like a gadget how about a WiFi Door Camera that links up to your TV and allows you to see who is at the door without moving from the sofa! So don't ever be stuck with just a door, let us help you to accessorize and make it your own.
uPVC Window Repairs
Glass is the most prominent part of a window so if you are experiencing condensation, fogging or misting problems it can become a big problem so to be able to rely on your local Locksmiths in the West Bridgford area who are trained in uPVC Window Repairs is just what you need to get the problem cleared up. Experienced in fitting Double Glazing, Toughened Glass for internal windows within 800mm of the final floor level, Self Cleaning Glass, Energy Efficient K Glass, Georgian Bar Lead Work, Patterned and Frosted Glass into uPVC Windows or if a window becomes broken through accidental or criminal damage we have a window boarding and 24hr Glass Replacement Service so whatever glass is required, you can rest assured we have it. Do you get a draught through your uPVC window? This may be caused by a loose handle not closing the window properly or a misalignment of the hinges. Don't allow this to affect the comfort of your home or workplace and cost you money form the lost heat, give us a call and we can give you a FREE No Obligation Quote for our great customer service and affordable prices. Lost the Keys from the lock of your uPVC Window? Snapped the key in the lock? You might not consider it a problem to leave the window shut but it could become a blocked escape route in the event of a fire. Let us help you to get it working again with a choice of handle types such as Cockspur, In-line and Offset. uPVC Windows can also get problems with the Espag locking mechanism, the window lock mechanism or the Gearbox and all these issues will stop the window working as it should but through Budget Locksmiths Nottingham our team of Locksmiths in the West Bridgford area have access to all the spare parts a uPVC Window could ever need and the professional expertise to fit them. If you have a problem with your uPVC Window but not sure exactly what it is you can always drop us an email or call us for some friendly advice.
Commercial Locksmiths
West Bridgford welcomes visitors and being located close to major sporting grounds it offers a wide choice of shops, cafes, bars and restaurants. All businesses in the West Bridgford area can rely on a professional service from Budget Locksmiths Nottingham where we have an experienced team of Commercial Locksmiths who are fully aware of the importance of security has within a trading environment. We are available 24/7 throughout the year so that you are never left unsupported at a critical time. Our team of Commercial Locksmiths in West Bridgford are able to carry out a wide range of services that include non destructive Door Opening, Locks supplied and fitted, Lock Upgrades, Fire Escape Push Bars and Push Pads, Fire Safety Door Mechanisms, Registered Key Systems, Keyless Entry Systems, Door Entry Systems and Door Repairs.
It is not uncommon for a safe to break down and we have just the team for the job. With their specialist knowledge we have fully certified safe technicians that are familiar with all types of safe work from commercial safes, antique safes, to jewellers safes and bank vaults. We can move and relocate Safes and Vaults and Security Cabinets of any size using specialist moving equipment which ensures your property is safeguarded at all times and dispose of an old safe if required. You can also purchase a safe from us however you would need to meet up with our fully certified safe specialist in West Bridgford to discuss your specific requirements to fulfill the order. Just a call or a quick email to us can make that happen. With a quick response time we are able to board windows or a whole shop front using the latest techniques of boarding from the inside followed by a 24hr Glass Replacement Service to get you back to trading as normal in the shortest possible time. So you can see we have got you covered, save our number in your phone and you will never have to wonder who to call.
Lock Change
There are always going to be risks, that's why we go to so much trouble ensuring the safety and security of our families and possessions so that when properly secured, locking our doors and windows will unquestionably enhance the security of your home but what about other areas? Consider outbuildings, do you store items in a heavy duty garden storage unit? Do you have a garage or a shed? Garden gates impede instant access to a property, would yours benefit from a lock? Use the experience and expertise of our friendly Locksmiths in the West Bridgford area who will be happy to come out and conduct a FREE Risk Assessment and Security Audit on your property where they will be able to answer any queries you may have and advise on the suitability and availability of the latest locking solutions for all areas of your property because whatever type of lock you need, Budget Locksmiths Nottingham can supply it and fit it and it all comes with a FREE No Obligation Quote.
Auto Locksmiths
Have you ever locked your keys in the car, van or lorry with no other means of gaining access to your vehicle or required help extracting a broken key from your motorcycle? These are times that a trusted and reliable Auto Locksmith that specializes in unlocking solutions and broken key removals in the West Bridgford area can be invaluable. Using non destructive lock picking methods our Auto Locksmiths will be able to gain access or retrieve keys without causing any damage to the existing lock or paintwork and have you back on the road in no time at all. We support an extensive list of makes and models of vehicles and motorcycles on the road today and the list is continually increasing however if you want to confirm your vehicle make is on our list you can just give us a call and be assured of a fast and professional service.
Crime Prevention in West Bridgford, Nottingham
Fighting crime in the area you live in is everyone's responsibility so if you notice anything untoward or a criminal activity in progress get yourself to a safe place and call the police. By making the Police aware of what is going on only helps them to provide a better service to the area making it a safer place for all.