Budget Locksmiths Nottingham is your trusted local locksmith provider in Clifton. With our comprehensive range of services, we are committed to meeting all your security needs.
Our skilled locksmiths are equipped to handle a variety of services, from lock changes to repairs and installations. Whether you require residential or commercial locksmith solutions, we deliver efficient and reliable services tailored to your specific requirements.
We understand the importance of having a locksmith near you, especially in emergency situations. That's why we offer 24/7 emergency locksmith services. Our dedicated team is just a phone call away, ready to provide prompt assistance when you need it most.
Choose Clifton Locksmith Services from Budget Locksmiths Nottingham for reliable and trustworthy local locksmith solutions. Contact us today to discuss your locksmith needs and experience our dedicated service. Your security is our priority and we are here to provide you with the peace of mind you deserve.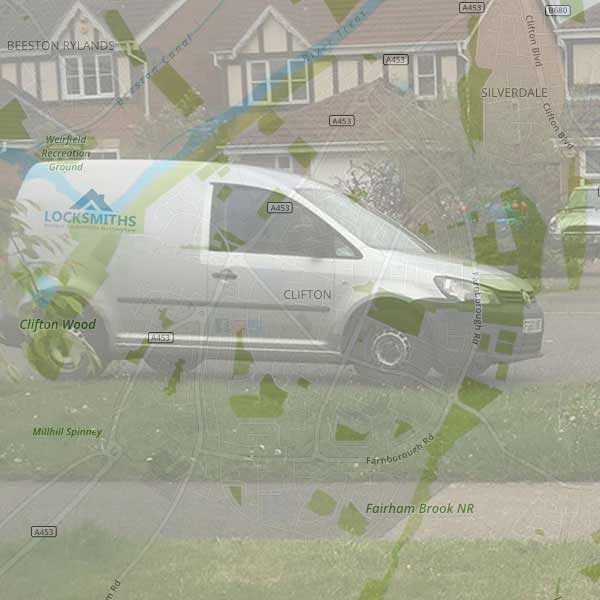 uPVC Door Repairs
Do you have difficulty turning the key in the lock on the front or backed your uPVC Door or have even snapped the key in the lock whilst trying to get the door open? This is a common problem that our team of trusted Local Locksmiths in Clifton are called out to put right. Other faults that require the skills of a Locksmith are with the Gearbox, the Locking Mechanism, Door Handles plus Locks, Lock Hooks and Hinges. Problems with the Hinges may seem like a minor issue but they are an essential component of keeping the door aligned and functioning properly. A Misaligned Door is a draughty door that can end up costing you money, it may be sticking and not moving freely becoming more and more annoying so it's reassuring to know that it's one of the many jobs our Locksmith in Clifton can do for you. No job is too small for us so whatever the problem with your door, give us a call and we will have it working as new in no time at all.
Door Accessories
How do I get rid of the Cat Flap? This is a common call from folk who have moved into a new property and don't have any pets. Our answer is no problem! Your Local Locksmith in Clifton can have it removed and a new panel fitted in no time at all. In fact uPVC doors are very versatile in that panels can be inserted and removed so if you need a Pet Flap putting into your uPVC Door then get in touch. It is also possible to change the glass panels from plain glass, back to plain glass, frosted glass or maybe you would prefer something more decorative. We have a large range of options for you to choose from. Other uPVC Door accessories available include Letterboxes, Door Knockers and Door Numbers in a range of styles and colours. For added security have you considered a spy hole in your front door, or a chain on the inside to stop anyone just barging in or a more high tech option of a WiFi Door Camera that link up to your TV so that you can see who is at the door without even leaving the sofa! We are always available to discuss what options are most suitable for you so if you need some friendly no pressure advice, just give us a call.
Lock Change
Have you got a loose Lock on your uPVC Door? This may seem a trivial thing on its own but a door lock is made up of many parts and all of the parts working in unison is essential to the correct functioning of the lock. Over half of home break-ins are made by forcible entry so it makes sense not to make it easier for a burglar to accomplish their mission, moreover if the loose lock is on a fire door, then it's main job of containing a fire may be compromised, so a loose lock on your door is a priority problem for both safety and security. Who can you call to fix it? Budget Locksmiths Nottingham has a team of Locksmiths in Clifton Area ready to respond to your call and restore or replace the faulty lock. All our locks come with 5 Keys and a 12 month guarantee. There are no call out charges and you will get a FREE No Obligation quote over the phone.
I need to upgrade my locks - Budget Locksmiths Nottingham can supply and fit the ultimate Lock in the form of the Brisant Ultion Lock that exceeds Insurance requirements with its Ts007 3 star Diamond Rating. This lock is an investment however Brisant are so confident that this lock is unbeatable that they give a 10 year guarantee and you will find Budget Locksmiths Nottingham competitively priced on all our products. Give us a call for more information or ask for a FREE Risk Assessment or Security Audit on your home or business and get the best protection on the market today.
uPVC Window Repairs
uPVC Windows have a healthy life span of around 20 years however the parts may not have the same stamina and with repeated use, issues are bound to occur. Regular windows and Slide and Glide windows that don't open result in stuffy rooms and could even impact safety as a potential escape route would be blocked. Budget Locksmiths Nottingham are able to supply and fit an extensive range of uPVC Window Parts such as different types of Handles, Cockspur Handles, Offset Handles, Casement Handles, and Tilt and Turn Handles. A large range of Hinges, Egress Hinges, Standard Hinges, Restrictors Hinges all of which are suitable for both uPVC and Timber Window Frames. Other parts that can fail on a uPVC Window are the Espag, the Window Lock, the Rod Mechanism and the Gearbox. Don't delay, we can have a friendly responsible locksmith out to you at any time that's convenient to get your window back to tip top condition.
Window Boarding Up
I have a broken window, how do I keep my property safe? Window Boarding in Clifton is the safest way to keep your house or business protected when there is a broken window. Budget Locksmiths Nottingham is fully equipped with Locksmiths in the Clifton Area for an immediate response to your call. It may be just a single window at your home or the whole shopfront of your business that needs boarding up, we can do it all. Using the most secure method of boarding of installing from the inside and with your safety in mind also cleaning up and removing any remaining broken glass we provide the greatest amount of protection until the damage is restored to its natural state. But nobody wants their home to be left boarded up for a long period of time, so that's why we offer a 24hr Glass Replacement Service. It's all part of the service.
Auto Locksmiths
Did you know that Budget Locksmiths Nottingham company has a team of Clifton Auto Locksmiths covering your area so that when we get a call saying I have locked my keys in my car, we are ready to act, our Car Locksmith in Clifton area can arrive at your location in most cases within 15 minutes. What service can we offer? our Auto Locksmith service is 100% non destructive, meaning our Professional Auto Locksmiths in Clifton will carry out all work using non destructive methods, the main service offered is to unlock your vehicle to retrieve your keys, this can be a Car, Van, Lorry or Motorcycle, any vehicle with a lock, it can be a Boot, Compartment, Door or an Additional Security item like a Motocycle Chain or Steering Wheel Lock, if it has a lock, our Auto Locksmiths can safely pick the lock open using specialist tools designed for just that. If you have snapped your key in the ignition or any vehicle lock, we do offer a broken key removal service, allowing you to use your spare key. You can be assured of reasonable quotes from our company 24 hours a day, with excellent advice before and after our auto locksmith services are taken, simply call us for a friendly chat about your situation. All quotes are provided free with no obligation or pressure.
Emergency Locksmiths
Our Emergency Locksmiths serving the Clifton area are available 24 hours a day, 365 days of the year so you never need to worry because you won't be locked out of the house all night, locks can be changed, Replacement car keys can be cut, damage can be repaired and your property can be made safe at any time of the night or day. All you need to do is keep our number in your phone and we will aim to be with you in 15 minutes.
Crime Prevention In Clifton, Nottingham
As much as we would all like there to be no anti social behaviour or criminal activity in the area where we live it is an unfortunate reality that it is a part of our daily lives. Clifton is policed by Nottingham Police who have in place a local policing team for the area whose priorities are to engage with and support the community in order to reduce crime in the area but they don't see everything, so if you see any criminal activity where you are, report it and help the team be effective in enforcing the law on those who deserve it and being there to support those who don't.