Security is a necessity for all commercial premises, it's an extremely important factor that cannot be neglected or be diminished therefore your security requirements will be performed by the professional tradesmen at the Budget Locksmiths Nottingham company. The locksmiths amongst our organisation are carefully selected, with boundless experience within the industry, they hold a wealth of knowledge to plan and execute jobs of all sizes, this has been made possible with immense training taken to continuously further their experience and expertise in all aspects of the trade. No matter the type or size of your business you are welcome to enquiry about our services, simply call 0115 772 2107 for a friendly chat and free no-oglibation quote, whether it's for a lock change, window boarding or a larger requirement in mind, we can handle tasks of all sizes.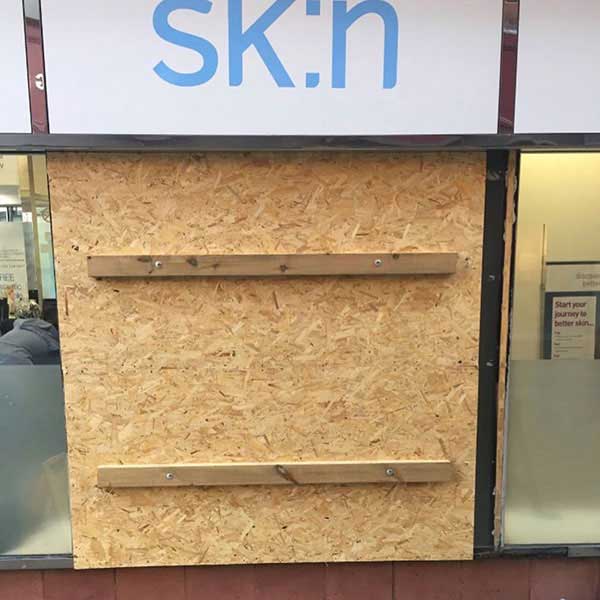 FREE Commercial Locksmith Quote
We do not charge call out or hidden fees, we are competitive on pricing whilst providing workmanship to the highest of standards, our team of commercial locksmiths are friendly and approachable, utilising their industry knowledge they will always be happy to advise on the most appropriate solution to your requirement. Call today for your FREE no-obligation quote 0115 772 2107.
24 Hour Commercial
Locksmith in Nottingham
For the times of emergencies that are unforeseen taking place within your commercial premises, we appreciate businesses of all sizes require the utmost care and attention in the quickest time possible, therefore you will require a reliable commercial locksmith company in Nottingham that is available at all times day and night, this could be for a door that won't open during the day, an automatic door that fails or it could be the unfortunate case where there has been a burglary or vandalism during the night requiring a window boarding up, whether it be a problem during the day or night you can count on the Budget Locksmiths Nottingham company to be there for you in the most required and trying times.
Commercial Locksmith
Nottingham Service
The locksmiths within our company are trained to perform all tasks as following, if there's a service required that is not listed, please call so that we can discuss your requirements in full and advise accordingly, we are happy to advise the best solution, in most circumstances we can fulfil every door and window requirement.
Vault Removal & Disposal
Vault Relocation
Safe Opening
Safe Repair
All Doors and Windows repaired
Window Boarding
Door Opening (We open any door, non-destructive)
All type of Locks supplied and fitted
Mechanical Code Locks
Keyless Locks
Keyless Combination Wheel Cylinder Locks
Locks keyed alike
Roller Shutter Doors repaired
Security Door Grilles supplied and fitted
Push Bars supplied and fitted
Push Pads supplied and fitted
Door Closers supplied and fitted
Fire Safety Door Mechanisms
Registered Key Systems
Master Key Systems
Door Entry Systems
We cater for all Commercial door and window requirements
Security audit and risk assessment
Locksmith Contract Services Nottinghamm
Are you a company with multiple branches requiring repeat services? our locksmith service contracts provide peace of mind and quality assurance. Once we have carefully discussed your requirements in full, providing you advice utilising our industry knowledge, we will tailor a specific contract package suited to your individual requirements which will include competitive rates and our dedicated support throughout. Our professional locksmiths within our organisation are ready to act with a moments notice, they hold a wealth of knowledge in all aspects of the trade therefore will advise you to the best of their knowledge with the best interests of your business in mind. We look forward to working with you on a long-term basis.