Budget Locksmiths Nottingham is delighted to offer top tier, budget friendly locksmith services to the residents of Kimberly. As your local locksmith service provider, we are committed to delivering fast, efficient, and reliable solutions tailored to meet your unique needs. We understand the importance of having a trusted locksmith service near you, especially in emergency situations.
Whether you're facing a lockout, need a lock change, or require more complex locksmith services, our team of professionals is always ready to assist. We offer emergency locksmiths that are just a call away, ensuring your security issues are addressed promptly. Our services like keying locks alike provide convenience, allowing you to access all areas of your property with a single key. With Budget Locksmiths Nottingham, you can rest assured knowing that your security is in the hands of experts. We are committed to providing fast, near you, and budget value services, making us the best choice for locksmith services in Kimberly.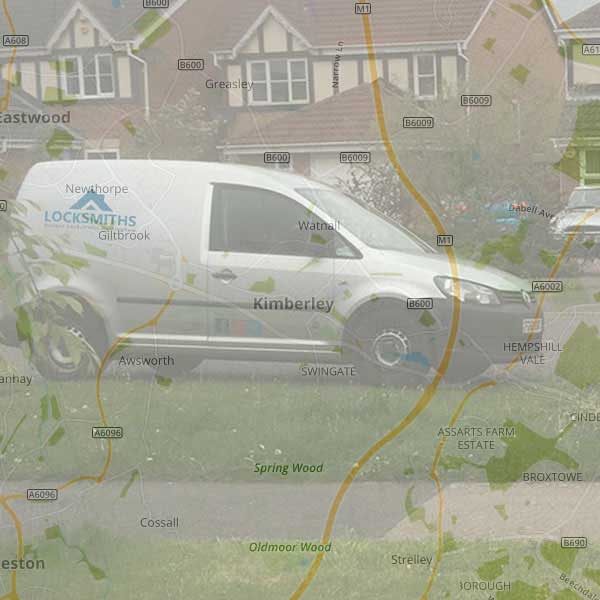 uPVC Door Repairs
Over time, modern day doors such as uPVC Doors can develop faults due to misalignment, misuse, damage and worn parts. There are more parts to a uPVC door than you perhaps realize with the most obvious one being the handle but even that can have its issues. Other faults can occur with the many varieties of Hinges available on the market today, have you considered whether you have got the right hinges for your door? The Lock Mechanism, Lock Case, Lock Hooks or the Gearbox which is attached to the back of the faceplate are all parts that can fail due to misuse or age. The good news is that our Budget Locksmiths in Kimberley area can fix all of these problems without you having to buy a whole new uPVC door so it's definitely worth giving us a call.
For doors that have no problems at all, we have a great range of accessories that you may be tempted to consider in order to enhance the look of the front of your home such as Letterboxes, Door Knockers, Pet Flaps that can be fitted or removed, Patterned Glass or Plain Panels for your uPVC Door and Numerals that come in different styles and colours. On the security side for a uPVC Door we offer SpyHole, Door Chains and a WiFi Door Camera Viewer which links up to your TV.
Budget Locksmiths Nottingham covering Kimberley area supply and fit all parts found on uPVC Doors, not only will you find us competitively priced, happy to give a FREE No Obligation quote for any work required on request and able to turn up and do the work at a time that is convenient to you, as part of our 5 star service, all the parts we fit are guaranteed for 12 months too.
uPVC Window Repairs
Do you have Double Glazing problems on your uPVC Windows such as Misting, Fogging or as the weather gets colder you notice Condensation? You may have an annoying problem with the handle on the window or have lost the key from the lock, the window doesn't sit properly in the frame or you can hear something broken and rattling which could be the Lock Mechanism or the Gearbox on your uPVC Window. All these faults can be remedied by the Budget Locksmiths Nottingham team in the Kimberley area who know that well maintained windows improve longevity and the look of a property. Budget Locksmiths Nottingham are also able to supply and fit a large range of new handles with types such as Cockspur, In-line, Offset and Tilt & Turn. Espagnolette Locking Mechanisms, Window Hinges, Keeps and Strikes and all uPVC Window spare parts are stocked. We have uPVC Window Hooks and Window Cables which are secondary security parts and a good idea for any window if you have small children but worth serious consideration if you live above the ground floor level as they restrict the width that a window can open, a definite safety feature for peace of mind.
Give Budget Locksmiths Nottingham a call with any of your window problems or queries and we will be more than happy to give you a FREE No Obligation quote for getting it all put right.
Window Boarding Up
Budget Locksmiths in Kimberley are available 24 hours a day weekdays and weekends for Window Boarding covering both the residential and commercial communities there is no limit to the amount or size of boarding that needs to be installed. Maybe you have had a house window broken or a shop that is closing down needs the whole of the front boarding up in order to maintain privacy Budget Locksmiths Nottingham has an experienced team covering the Kimberley area that will arrive with all the equipment required and ready to get to work. We use a boarding material that has a good depth to it and a fit using technique that is the most secure way of protecting your property which is boarding from the inside as this gives an added level of security in deterring any unauthorized access. Our friendly Kimberley Locksmiths will be happy to answer any of your questions, repair damage to window frames, door frames or locks if you have been broken into and will clean up all the broken glass and debris before they leave. Alongside our Boarding Service we also offer a 24hr Glass Replacement Service to get your property looking as good as new again in no time.
Commercial Locksmiths
Yes, the Locksmiths in Kimberley on our team are experienced in dealing in the Commercial and Retail Sectors. We understand the time pressures that these sectors are under to keep issues at a minimum and everything working smoothly in order to achieve uninterrupted trading and that's why we can send out a professional Commercial Locksmiths in Kimberley to be with you within 15 minutes if needed. We work using non destructive methods and have a wide range of services from Door Opening to fitting Keyless Entry Systems and Safe and Vault work. Give us a call to book a FREE Risk Assessment and Security Audit and discuss the best options for your business.
Whether your business is small and local or a multi-national company you will find the Budget Commercial Locksmiths in Kimberley committed to providing the very best in service and advice. There are no hidden fees and we don't charge you for a call out so keep our number readily available in the emergency contacts book.
Auto Locksmiths
Imagine your Key snaps in the lock of your vehicle as you start the ignition and as you sit there looking at the remaining fob in your hand your mind will be racing with What Do I Do Now, Who Can I Call? Budget Locksmiths Nottingham have trained, reputable and efficient 24/7 Auto Locksmiths in Kimberley that use non destructive lock picking methods, so no damage to the paintwork of your vehicle which is handy if you have locked your car keys in the car. Our Auto Locksmith Kimberley team can help to get you back on the move.
Emergency Locksmiths
Being a 24hr 7 day a week friendly and experienced team of Locksmiths means that Budget Locksmiths Nottingham have a team on hand, ready at any time of the day or night anywhere in the Kimberley area for Residential or Commercial customers. The priority for our Locksmiths in Kimberley is to get to you within 15 minutes of your call ready to regain access to your property, board up broken windows and order the glass replacement for the next day, change locks, remove keys snapped in the lock, emergencies that require an Auto Locksmith in fact anything that you deem to be an emergency and need immediate assistance for, we will have a locksmith out to you, so save our number in your phone, it's the smart thing to do for those unexpected moments when all you need is a fast and reliable locksmith in Kimberley area.
Crime Prevention In Kimberley, Nottingham
Anti Social Behaviour crimes are becoming more and more prevalent nowadays and while this behaviour may not be directed at individuals, maybe your property or building could be unlucky enough to sustain damage from Anti Social Behaviour resulting in a Criminal Act of damage. Make sure that when you are safe, you report to the local police any observations of criminal damage or anti social behaviour taking place and remember that Budget Locksmiths Nottingham in the Kimberley area are available for you 24 hours a day, 7 days a week.