In the heart of Lenton, Budget Locksmiths Nottingham is your local, fast and reliable locksmith service provider. We understand that when an emergency strikes, you need a service that is not only near you but also swift in response. Our local Lenton Locksmith Services are designed to meet the unique needs of this vibrant community, offering unparalleled expertise, prompt response times and the best budget value for your money.
Whether you're dealing with a lockout situation, need a lock change or require more complex locksmith services, our team of professionals is ready to assist in a fast and efficient manner. We offer emergency locksmith services that are just a call away, ensuring your security issues are addressed promptly. Our services like keying locks alike provide convenience, allowing you to access all areas of your property with a single key. With Budget Locksmiths Nottingham, you can rest assured knowing that your security is in the hands of experts, providing you with fast, near you, and budget value services.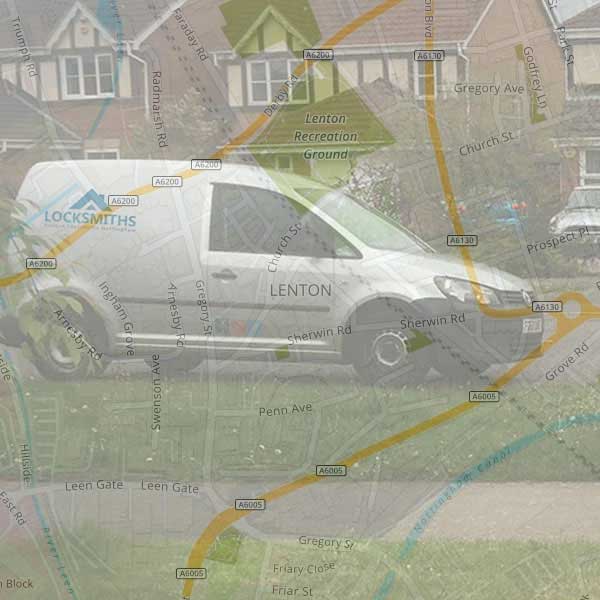 uPVC Door Repairs
Our uPVC Door Repair Services in Lenton are available 24 hours a day to carry out any repairs required, our Locksmiths in Lenton are experienced not only working on all types of doors but in particular modern day uPVC Doors. No matter what the problem on your uPVC Door whether it's the Door Handles, Door Locks, Hinges, Sticking Doors, the Door Lock Mechanism or the Door Lock Case. Perhaps you just need a Door Opening, a lock putting on a bedroom or bathroom door or you need locks changing, no job is too small and Budget Locksmiths Nottingham are able to supply and fit any parts and spares required. As all parts are guaranteed for 5 years you can be confident that you will receive a reliable, efficient and trustworthy service from our knowledgeable Locksmiths in Lenton. Have you considered any accessories for your uPVC Door? We have Pet Flaps that can be put in or removed and a panel inserted in its place, Patterned Glass Panels, Letterboxes, Door Numbers in a range of styles and colours, Spy Holes and Door Chains for additional security and a WiFi Door Camera that links up to your TV so that you can see who is at your door without even leaving the sofa! If any or all of these accessories appeal to you, then give us a call for a chat.
Lock Change
Your home or business is an investment and if you want to put in place the ultimate protection Budget Locksmiths Nottingham suggest the Brisant Ultion Lock that the Lenton Locksmith Team are fully trained to fit. This lock is not cheap, however, if you are looking for a lock that exceeds Insurance Company requirements you will find us extremely competitively priced on the Ts007 3 Star Diamond Rated Ultion Lock upgrade. Alongside the ultimate protection there is another advantage to making this purchase. Brisant give a 10 year guarantee of burglary prevention through a burglar not being able to gain access through snapping the Ultion Lock Cylinder however if it was proved to be the case, Brisant would pay you £1000. If you think this ultimate Lock solution could be just what you need, then give us a call to discuss further and also receive a FREE No Obligation quote.
uPVC Window Repairs
The good news is that most problems that occur with not just uPVC Windows but any Windows can be resolved and repaired by your local locksmith in Lenton without requiring you having to go out and buy a complete new window unit. We specialise in providing a comprehensive range of Window Repair services that include non functioning handles, faulty lock mechanisms, misaligned hinges, Double Glazing problems such as misting, fogging and the dreaded condensation. For Windows your Locksmith Lenton Team also offer a complete and secure Boarding Service with 24hr Glass Replacement and as additional security measures for when there are children around we are able to supply and fit Hooks and Cables which are window restrictors and ideal for rooms above the ground floor.
With our considerable years of experience we have seen it all so whatever your problem, give us a call for a FREE No Obligation quote with no hard sell or sales pressure. All our parts come with a 5 year warranty to match our 5 star service.
Auto Locksmiths
Did you know that Budget Locksmiths Nottingham has trained 24hr Auto Locksmiths in Lenton? In a world where it is so inconvenient to be without our vehicles, this really is an invaluable service that we have to offer you. We work on an extensive range of popular makes and models and although services may vary between the vehicle types we display all the information you need within this website so check out the Auto Locksmith page or just give us a call to discuss your specific details and we will also be able to give you a FREE No Obligation quote if you require one.
Just as all the other work we carry out this is where using non destructive methods to work on your vehicle really comes into its own as it protects and preserves the paintwork leaving it unaffected. Services that we have on offer include Vehicle Re Entry, Vehicle Lock Picking, Vehicle Boot Opening, Snapped Key Removal.
Emergency Locksmiths
Our Team of Locksmiths in Lenton are always available to get you back into your house if you lock yourself out, whatever the time of day or night. We can respond to your call quickly aiming to arrive at your location within 15 minutes and our local Locksmiths in Lenton accept credit and debit card payment to make things easier for you. We can get the door open for you or replace the lock completely with an Anti Snap Cylinder Lock that comes with 5 keys and a 12 month guarantee and all by using non destructive methods of working so there will be no additional damage to your door. Keep our number in your phone just in case you need to call a speedy, friendly and reliable Locksmith in Lenton.
Crime Prevention In Lenton, Nottingham
Nottinghamshire Police have a profile on social media giving information regarding all areas where they are working, keeping everyone informed over arrests that have been made and highlighting cases that they need help with. Front Line Officers are receiving regular training to be as effective as they can be and have the right skills that can be used in the right place at the right time. If you see anti social behaviour or criminal damage that you think needs reporting, Budget Locksmiths Nottingham advise you to call the Police and help them to keep Lenton a safe place and prevent yourself from becoming a victim.