Welcome to Lace Market Budget Locksmiths in Nottingham, your trusted provider of locksmith services. We are dedicated to offering you the best value solutions to meet your security needs effectively and affordably.
Our team of skilled locksmiths is highly trained in a wide range of services, including lock changes, repairs and the installation of high-security locks. Whether you require assistance for your residential or commercial property, we provide tailored solutions designed to enhance your security and give you peace of mind.
With our commitment to delivering excellent service at competitive prices, we strive to ensure that you receive the best value for your locksmith needs. We understand the importance of affordability without compromising on quality, which is why we offer transparent pricing and cost effective solutions.
Choose Budget Locksmiths Nottingham for reliable, affordable and high-quality locksmith services in the Lace Market area of Nottingham. Our experienced locksmiths are dedicated to your satisfaction and will go the extra mile to ensure that your property remains safe and secure. Contact us today to discuss your locksmith requirements and experience the best value for your security needs.
Remember, when it comes to locksmith services in Lace Market, Budget Locksmiths Nottingham is your trusted local provider offering the best value solutions.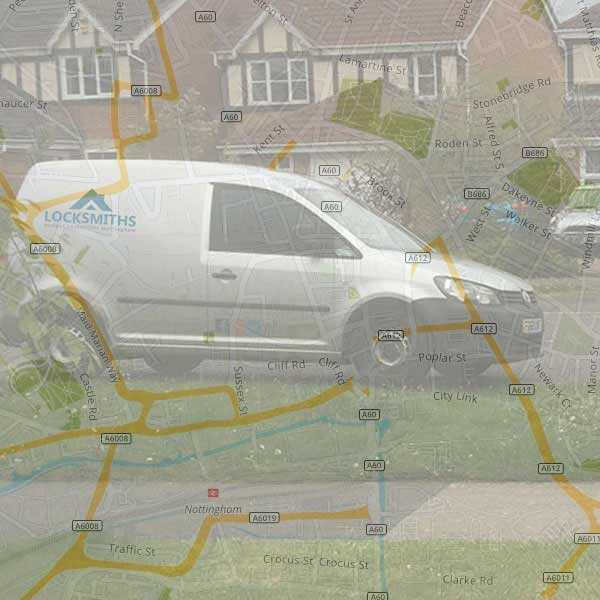 Commercial Locksmiths
Any business in a commercial area such as Nottingham Lace Market needs the security and support that Budget Locksmiths Nottingham has to offer so why not start with a Security Audit and Risk Assessment of your business. Our friendly team work to the highest standards and can accomplish jobs of all sizes. On top of maintaining a competitive pricing policy, we will never charge you a call out fee and all our quotes are without obligation, so here are some of our commercial solutions that may fit your problem. We repair Roller Shutter Doors, we supply and fit Security Door Grilles, Push Pads and Push Bars, Door Closers and all types of Locks such as Mechanical Code Locks, Keyless Locks, Keyless Combination Wheel Cylinder Locks and Locks Keyed Alike. We carry out Safe Opening or Repair, Vault Relocation or Vault Removal and Disposal. We cater for all your Commercial Door and Window demands, Door Entry Systems and Fire Safety Door Mechanisms and we use non destructive methods for Door Opening. We are here for you whenever you need us and only a call away, ready to listen and give advice on the best solution for your business.
Emergency Locksmiths
Budget Locksmiths Nottingham is on call 24/7 offering an Emergency Locksmith Lace Market service where they can be with you usually within 15 minutes. This service covers both our Commercial and Residential customers where your security is our prime concern. For broken windows, we supply and fit Window Boarding using the latest techniques and strong materials to defend against re-entry, then we clear up and remove all the broken glass. For Doors that won't lock or unlock and require lock replacement, we fit the latest Euro Cylinder Anti-Snap Locks to guard against further forced entry by Lock Snapping and these Locks come with 5 keys. These are just a couple of common emergency call outs but if you need an emergency locksmith in Lace Market area for whatever reason, give us a call and one of our experienced team members will arrive prepared with all the tools and materials required to gain access or fully secure your business or property.
Master Key Systems
This is the ideal commercial solution for managing access to multiple doors that need to be locked whether they are all in one building or at properties in different locations such as Hotels, Retail Shops, Offices, Apartments, Local Authorities and Corporate Organisations. This system is managed through three keys, a Grand Master Key that can access all areas, a Master Key giving access to restricted areas and a Sub-Master Key allowing access to lesser rooms. The smallest system that we make up consists of two keys, however depending on the size of your business or organization, you can decide the level of restriction required on the rooms that are locked with a Master Key and there is no upper limit to the amount of keys you require for each level of access. Our Locksmiths serving the Lace Market area are experienced in dealing with Master Key Systems so if you feel this is just what you have been looking for, give Budget Locksmiths Nottingham a call today.
uPVC Door Repairs
How good is it to know up front the cost of repairs before you agree to have them done. Budget Locksmiths Nottingham prides itself on giving potential customers all the information they need to make an easy decision. When you call us, provide details of the problem and we will give you a set price and a time that our Lace Market Locksmith will be with you to carry out the work and if it's not urgent, you can book it in for a time to suit yourself. No call out charges, no hard sell and a free no obligation quote from your Locksmith for the Lace Market area makes us the obvious choice if your uPVC Door needs a repair carried out to the Handle, Door Cylinder Lock, Door Hinges, Door Lock Mechanism, Door Centre Case, Realignment, Replacement Panels, Door Spare Parts, Door Chain or even the Letterbox. We also carry out repairs on Composite and Timber Doors. A new Door can really freshen up the look of a property or building, so give us a call or drop us an email and we will send you a brochure to browse through our range of Glass and Panel Doors and luxury Composite Doors. Our range of Door accessories will also have you reaching for the phone when you see that we also supply and fit WiFi Door Camera Viewers, Pet Flaps, Door Viewers and Custom Styled and Coloured Numerals
uPVC Window Repairs
The same goes for our popular uPVC Window repair service too, which includes Window Espag Handles, Window Hinges, Window Lock Mechanism, Window Gearbox, Window Hooks, Window Cables, Window Spare Parts and Double Glazing Window Repair or Replacement. As well as a 24hr Window Boarding Service, we also offer a next day Replacement Glass Service for uPVC Windows. If your Windows are looking a bit dated and you need a something that looks good and requires little maintenance, give us a call to discuss your requirements, our Lace Market locksmiths are trained to handle all aspects of the trade, doors and windows. All parts supplied by Budget Locksmiths Nottingham come with a 12 month warranty.
Lock Change
Budget Locksmiths Nottingham are a reputable company experienced in assisting High Court Enforcement Officers, County Court Bailiffs, Energy Company Officers, Property Management Firms, Estate Agents and Landlords in gaining access to properties and carrying out Lock Changes. In order to meet Insurance requirements, a 1 Star Cylinder Lock with a 2 Star Handle is required. Budget Locksmiths Nottingham go over and above taking security to the highest level by supplying and fitting a 3 Star TOS007 Euro Cylinder Lock along with a 2 Star Handle. Our experienced Locksmiths in Lace Market area use non destructive entry methods and we have no restrictions on how many locks need to be changed, even offering a special price for multiple lock changes. Contracts that contain a discount for long-term business are available. 3 Star TOS007 Euro Cylinder Locks with a 2 Star Handle are also available for Upgrades.
Auto Locksmiths
If it has a lock then we can pick it and it's reassuring to know that Vehicles are no exception to that rule. Budget Locksmiths Nottingham have specialist auto locksmiths in Lace Market area that are able to use non destructive methods to gain entry to a large range of makes and models of Cars, Vans, Lorries and even motorbikes using the most sophisticated tools on the market for lock picking, that we even guarantee no damage will be caused to your vehicle whilst gaining entry. We are available 24hrs a day so it doesn't matter what time you call us, we will be able to give you a price and an estimated time of arrival right away. Please be aware that we currently only offer an unlocking service, providing a safe re-entry to your vehicle.