Situated in the serene village of Ruddington, Budget Locksmiths Nottingham is your trusted provider of comprehensive, affordable locksmith solutions. As your local locksmith, we are committed to delivering prompt and efficient services, tailored to meet the unique needs of both residential and business communities in Ruddington. Our convenient location allows us to respond quickly to calls, ensuring that your security needs are met promptly. Whether you're dealing with a lockout, need a lock replacement or require a more complex locksmith solution, our team of experienced professionals is ready to assist.
Our services extend beyond traditional locksmith tasks. We offer window boarding up services for emergencies, commercial door repairs to keep your business running smoothly, and shop boarding up services to secure your premises. We also handle all door and window repairs, commercial lock changes, broken glass replacement, and broken key extraction. For those inconvenient moments when you've locked your keys inside your vehicle, our auto locksmith service is available to retrieve them. We also offer key extraction for vehicle keys. At Budget Locksmiths Nottingham, we understand the unique security needs of the Ruddington community. Our dedication to providing fast, local, and cost-effective solutions has made us the go-to choice for locksmith needs in Ruddington. Trust us to deliver the best value locksmith services, whenever you need them.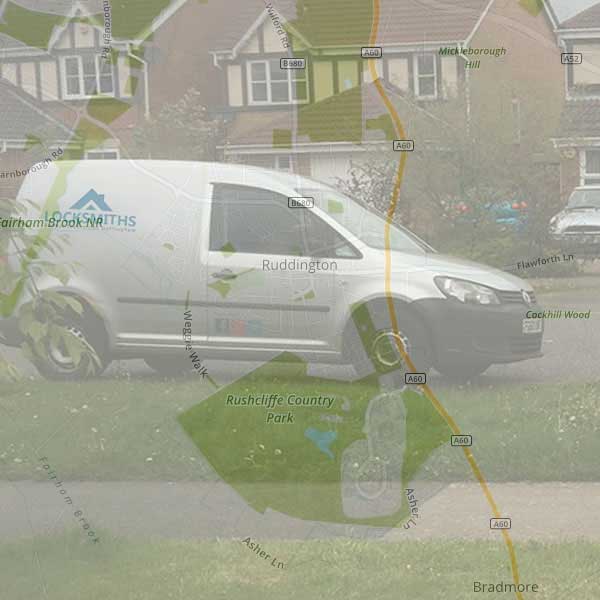 uPVC Door Repairs
The beauty of a uPVC Door is that it is made up of panels and if there is damage to one of the panels, the panel can be replaced without costing you the price of a new door. The panels can be plain uPVC or glass that is plain or patterned so it is just as easy to go for something a little bit different if you fancy a change. There are many things that our team of friendly Locksmiths in Ruddington can do if you do have uPVC Door problems as there is more to a uPVC Door than just panels. Handles can loosen or maybe you have movement in the door or the frame, the problem could be misalignment causing a problem with opening and closing the door. A problem with the lock could ultimately affect the gearbox and the lock mechanism. The hinges may seem an insignificant part, but they are vital for the smooth functioning of the door. In any of these instances, it is always best to call a Locksmith out for these problems to save you money in the long run. Budget Locksmith Nottingham has a team of experienced Locksmiths in Ruddington area ready and and eager to help to keep your doors working properly and your home or business secure.
Accessories for uPVC Doors
When moving into a new home or just wanting to make changes to the appearance of a property, there is no bigger statement than the front door. Budget Locksmith Nottingham are able to offer a large range of uPVC Doors in different designs and a superb range of Composite Doors in a selection of stunning colours. If you already have a uPVC Door you could consider inserting or making changes to the Patterned Glass to make a difference. Once you have the door in place, stand out with some Numerals that come in a great assortment of styles and colours and it doesn't stop there, our Locksmiths in Ruddington are also able to supply and fit new Letterbox Plates and Door Knockers. Something we get asked a lot from people moving into a new home or bringing home a small new furry addition to the family is I need a Pet Flap putting into a door. In Ruddington, our helpful locksmiths are more than happy to oblige and additionally they can reverse the process and replace an existing pet flap with solid uPVC panel into the door for you if that is what you need. We can also supply and fit security accessories such as spy holes and door chains which are good for identifying who is at the door without having to open it fully or if you want to go one step further get a WiFi Door Camera that links up to the TV and you can see who is at the door on the TV screen. If you are interested in any of these items give Budget Locksmith Nottingham a call an we will be happy to give you a FREE No Obligation Quote.
Lock Change
Although repairing uPVC Doors and Windows in Ruddington is a large part of what the established business of Budget Locksmith Nottingham is all about, we are in fact masters of any locking device, wherever it may be. It is not just doors and windows that need to be locked to keep possessions safe and secure as many of us keep items worth thousands of pounds in a garage or a garden shed so it makes sense to ensure that security is a priority and to have the best and most secure locking device in place. It makes no difference where you live or work, we have a large range of lock and padlock solutions that are bound to deter unwanted visitors. A High Security Weatherproof Padlock offers great outdoor all weather protection on outside containers or gateways or maybe something that will resist against boltcutters then a tough heavy duty padlock is what you will need. Have you considered making a move to something smarter? A Keyless Entry System is ideal for homes with large families, apartment buildings or shared households where access is allowed by multiple users without the need for a key. Or a 5 in 1 Keyless Entry Lock which gives you 5 ways to access your property by using a key or a Code, a fingerprint or a smartphone or use the Knock to Enter option, which is also done on your smartphone. Perhaps an upgrade on the locks that you already have would be an option. Our team of Locksmiths in Ruddington are more than happy to not only take your call to discuss your options but pop round and conduct a FREE Risk Assessment and Security Audit along with a FREE No Obligation quote for any changes you want to make in getting your property as secure as it can be. Give us a call.
uPVC Window Repairs
We have a professional team of Locksmiths in the Ruddington area who are specialists in uPVC Window repairs. No job is too small for us so if it is just a job that you can't manage to do on your own, we are there for you offering the same quality service that we give to all our customers. There are many reasons why you may need to give our trustworthy and reliable team a call to repair a uPVC Window such as damaged double glazing or maybe it is fogging or misting up, we can clear this up without needing to change the window frame. uPVC Window Handles can become flimsy, stuck or just break, we can supply and fit new handles of your choice. Have you got a uPVC Window that doesn't sit right in the frame and cannot close properly, we can come and diagnose the fault and restore the window to full working order. Or a fault with the lock on the window, whether you have just lost the keys or the Lock Mechanism has failed, we will be there to make your window secure again. All parts supplied come with a 12 month guarantee, we have no hidden costs, we do not charge a call out fee and the FREE No Obligation quote you get on the phone will be the price you pay so don't put up with that damaged window a moment longer and give us a call.
Auto Locksmiths
Our Ruddington Auto Locksmith Team are equipped and experienced in dealing with all of your Auto Locksmith requirement. Fully trained to high standards and insured for carry out the task of unlocking your vehicle and extracting snapped keys. We concentrate on assisting with Emergency Auto Locksmith Requirements, the most common are keys that have been locked inside the boot or in the ignition, this happenes when the doors automatically lock, it's an easy mistake and happens a lot, our Auto Locksmiths in Ruddington are able to arrive quickly and pick open the lock on your vehicle to retrieve your keys so that you can be on your way with minimal disruption to your plans. If in the case you have snapped your key in the ignition, not to worry, although a frustrating time, our team are highly experienced in these emergencies, they will remove the key part snapped off in your ignition so that you can use your spare set of keys. Require some friendly advice from your local Auto Locksmith? call 0115 772 2107.
Emergency Locksmiths
The very nature of an emergency catches us off guard and renders us unprepared whatever the situation. Our Emergency Locksmith Ruddington service is available any time of of the day or night whether you are a large commercial business or retail premises, a small business owner, homeowner, landlord or tenant. Give us a call with the nature of your emergency and with a super quick response time we aim to get a cool and calm no fuss trained Locksmith with all the tools required for the job out to you in 15 minutes to get you back in control.
Crime Prevention In Ruddington, Nottingham
Ruddington is an area that is beloved by its residents but unfortunately that does not keep unwanted visitors away. Always make sure you do a house check of all the locks before going out and that the main doors are properly locked on exiting. Don't give intruders easy access by leaving locks that are not working properly, get them repaired or replaced and if you notice any criminal activity around where you live make sure you report it to the Police.