In the bustling heart of Nottingham City Centre, Budget Locksmiths Nottingham stands as a trusted provider of comprehensive, affordable locksmith solutions. We are your local locksmith, committed to delivering swift and efficient services, tailored to meet the diverse needs of city centre living and working. We understand that in a vibrant urban area, security and accessibility are paramount. Whether you're dealing with a lockout, need a lock replacement, or require a more complex locksmith solution, our team of experienced professionals is ready to assist.
Our services extend beyond traditional locksmith tasks. We offer window boarding up services for those unexpected emergencies, commercial door repairs to keep your business running smoothly and shop boarding up services to secure your premises. We also handle all door and window repairs, commercial lock changes, broken glass replacement, and broken key extraction. At Budget Locksmiths Nottingham, we understand the unique security needs of the city centre. Our dedication to providing fast, local and cost-effective solutions has made us the go to choice for locksmith needs in Nottingham City Centre. Trust us to deliver the best value locksmith services, whenever you need them.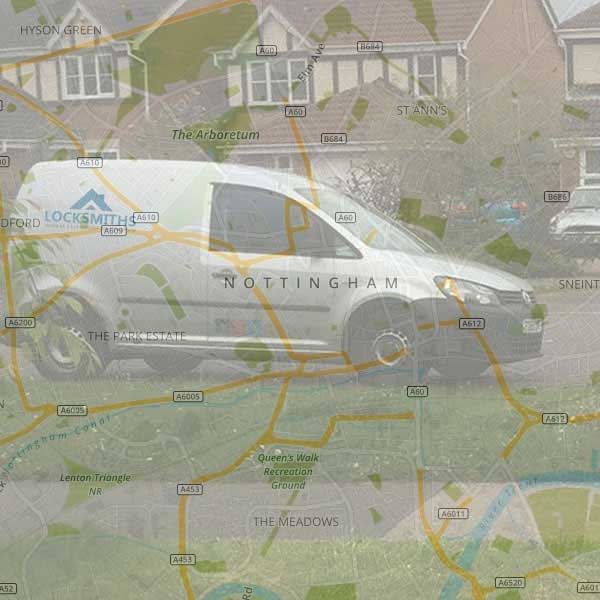 Commercial Locksmiths
Nottingham City Centre has large and thriving commercial and business sector that encourages people in from miles around which makes security a key factor for shops, restaurants, hotels, factories, business premises, and homes in and around a vital city centre. As a business ourselves we understand that a cool-headed, knowledgeable, reliable and trustworthy team is invaluable in times of crisis and that is just what you will get with Budget Locksmiths Nottingham. Our Commercial Locksmith Team are trained in all services and deliver the peace of mind that is required by the business sector whether you are a large national company or a small local tradesman.
We work a 7 day a week 24hr shift pattern which accommodates every business or Service Provider in Nottingham and aim to be with you in 15 minutes in an emergency so a good number to store in your phone or add to the business contact numbers list ready to use for you or your team.
We offer a free Business Security Audit which is a great time to get to meet us and understand how we can support your business keep up to date with the latest security solutions available on the market giving peace of mind and maybe even make your work life easier. Other services catered for by our professional Commercial Locksmith team are Safe Access and removal, Vault Removal, Budget Locksmiths Nottingham do not charge you a call out fee, use non destructive methods of working to gain access preventing further damage, use thier industry knowledge to apply workable solutions and will be happy to give a FREE NO Obligation quote at any time.
Window Boarding Up
Budget Locksmiths Nottingham offer a 365 round the clock Boarding Service that is fast and efficient. Calling us and giving details of what needs to be boarded up allows our Team to arrive with all the tools and materials necessary enabling us to get to work straight away. Whatever the reason you need our Boarding Service because of damage through accident or break-in or maybe you just need Privacy because your business is closing down, we use high quality boarding materials and apply the latest technique of securely fitting the boarding from inside the frame. This is the most effective way of stopping any unauthorized access. Budget Locksmiths Nottingham has no limit to the amount, size or area that needs to be boarded so you can rest assured that we are able to deal with any eventuality making sure you are safe and secure. Once the boarding has been fitted we also provide a clean up as part of the service, getting rid of glass and surface debris leaving you free to deal with more important matters such as glass replacement as boarding is only a temporary fix. Budget Locksmiths Nottingham offer a 24hr Glass Replacement Service that can be easily arranged and fitted for you allowing for continuity on the job. Our team are friendly, approachable and keen to assist in anyway possible such as documenting the damage with before and after photos which may required not only by yourself but also by the Police, Insurance Companies or Local Authorities however our overall concern is to get your home or premises safe, secured and looking as good as new again as soon as possible.
uPVC Door Repairs
Whatever the repair you need for your uPVC Door you are in safe hands when you call Budget Locksmiths Nottingham, just give us the details of your problem and we will give you an instant FREE No Obligation quote with an pre-arranged arrival time that suits you. We are able to change panels, insert or remove Pet Flaps, Re-align doors that are not opening or shutting properly, replace handles, hinges, fit replacement glass panels, change the centre case gearbox, fit a full unit mechanism or fit a new lock. We use Euro Cylinder Anti Snap Locks as standard which come with 5 keys and all our uPVC replacement parts come with a 12 month warranty. Budget Locksmiths Nottingham can even offer you a selection of brand new uPVC Doors to choose from. If you fancy upgrading your front door giving the house a fresh new look our friendly approachable team are happy to talk to you and answer questions about the benefits of our fabulous range of Composite Doors in different styles and colours without any sales pressure from us.
Do Budget Locksmiths Nottingham have a range of Door Accessories?
Yes we do! A range of Door Accessories are also available such as Letterboxes, Door Knockers, Numerals in a range of styles and colours, Door Chains, Spy Holes, WiFi Door viewing Camera which screens onto your TV removing the need for a CCTV Camera outside your front door. Give us a call to ask for a brochure, we are sure to have something in there to interest you.
uPVC Window Repairs
Window repairs can range from a replacing a pane of glass to replacing the whole frame plus fixture and fittings. Budget Locksmiths Nottingham are experts at it all and you will find our friendly professional team eager to explain and answer any questions. Although we are able to repair all types of windows, uPVC Windows are by far the most popular and the most common faults tend to be the seals, Espag handles or the mechanisms. Most parts on a window can be repaired or replaced, even double glazed windows which saves you from having to buy a whole new window. So if your window is stuck or locked and there is no key, our careful responsible team are able to open locked windows and make the repairs required without causing any further damage to the glass or the frame and all the parts we supply and fit are not only of the highest quality but also come with a 12 month guarantee so there are savings to be made in maintaining or repairing original windows. Give us a call for no pressure genuine advice and a FREE No Obligation quote.
Auto Locksmiths
Requiring an Auto Locksmith in Nottingham City Centre? in most cases we can arrive at your location within 15 minutes of calling. Locked your keys within your Boot or Ignition? with doors automatically locking it's a very common mistake to make, it's frustrating and you will require help from a professional Auto Locksmith quickly and safely. At Budget Locksmiths Nottingham company, our Auto Locksmiths are fully insured and trained to use solely non destructive methods to regain access to your vehicle, this is by picking the lock open to retrieve your set of keys. If you have snapped your key in the ignition we do provide a service to extract the broken key to enable you to use your spare set of keys.
Our lock picking service is available for all type of vehicle locks, that includes security chains for motorcycle, and even steering wheel locks. No matter the emergency you experience, simple call us for a free no obligation no pressure quote, we provide genuine help advice before and after any service is taken.
Landlords and Estate Agents
Budget Locksmiths Nottingham has a team of Professional Locksmiths ready to assist with a range of services that include multiple Lock Changes, Lock Upgrades, Door Openings, Lockouts, Broken or Snapped Key Extractions and if required, to assist with evictions. All services are available 24hrs a day weekdays and weekends and ideally suited for Estate Agents and Landlords of single or multiple properties. We offer Locksmith contracts to companies giving a discount for long term business especially suited to Landlords, Estate Agents, Property Management Firms and Student Lettings We supply and fit parts that meet and exceed Insurance Company requirements using 3* Euro Cylinder Anti Snap Locks that come with 5 keys and 2* Handles that come with a generous 5 year warranty. Other work we carry out with Professional Bodies includes High Court Enforcement, County Court Bailiffs and Energy Company Warrant Officers.
Budget Locksmiths Nottingham are always available to take your call and discuss your individual requirements.
Emergency Locksmiths
Budget Nottingham City Centre Locksmiths provides a 24/7 Emergency Service that is just exactly that where we aim to be with you within 15 minutes of your call and it doesn't matter what the Emergency is, if you need a locksmith then we will be there providing support and professional help at a time you need it most. Keep our number saved in your phone as you could just be locked out of the house when you need it most!
Crime Prevention In City Centre Nottingham
Nottingham has it own active City Centre Police Unit aimed at keeping in touch with the community by holding Pop Up Beat Surgeries, City Centre - Days of Action, attending family fundays, and other initiatives that work towards keeping Nottingham City Centre a safe place to live and work. The team of Officers are a friendly approachable group and are always ready to listen should you have any concerns that you want to bring to their attention. Get involved, they are there to help.