In the vibrant town of Sandiacre, Budget Locksmiths Nottingham stands as a reliable provider of comprehensive, affordable locksmith solutions. As your local locksmith, we are dedicated to delivering swift and efficient services, tailored to meet the distinct needs of both residential and business communities in Sandiacre. Our nearby location enables us to respond rapidly to calls, ensuring that your security needs are addressed without delay. Whether you're facing a lockout, need a lock replacement, or require a more intricate locksmith task, our team of seasoned professionals are ready to assist.
Our services go beyond traditional locksmith tasks. We offer window boarding up services for emergencies, commercial door repairs to keep your business operations smooth, and shop boarding up services to secure your premises. We also handle all door and window repairs, commercial lock changes, broken glass replacement, and broken key extraction. For those inconvenient moments when you've locked your keys inside your vehicle, our Sandiacre auto locksmith service is available to retrieve them. We also offer key extraction for vehicle keys. At Budget Locksmiths Nottingham, we understand the unique security needs of the Sandiacre community. Our commitment to providing fast, local, and cost effective solutions has made us the preferred choice for locksmith needs in Sandiacre. Trust us to deliver the best value locksmith services, whenever you need them.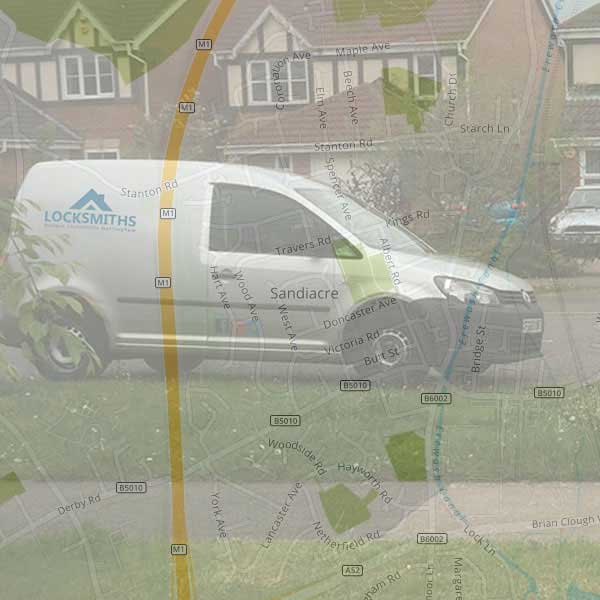 Emergency Locksmiths
Do you need an Emergency Locksmith in Sandiacre? Whatever the time of day or night look no further than Budget Locksmiths Nottingham who have a team of reputable trustworthy Emergency Sandiacre Locksmiths that can be with you within 15 minutes of your call to be on hand and support whilst sorting out your problem with the minimum of fuss. This service is available for anyone who needs an Emergency Locksmith for whatever reason and as with all our other services comes with a FREE No Obligation Quote over the phone and NO Call Out Charge. For your convenience payments can be made by cash or card.
uPVC Door Repairs
Doors in the UK need to be sturdy enough to cope with all weathers and the popular uPVC Door is made for the job, strong, they don't shrink or swell, are long lasting and virtually maintenance free so it can catch us off guard if a problem does arise that stops the door functioning properly. Misalignment is a common fault which will cause the door not to fit snugly into the frame. Maybe you have to push or pull the door because it is sticking or having to pull the door towards you whilst lifting the handle, both could be signs that the door is misaligned. The distance at the top and the bottom of the door should be the same, if not the hinges may need to be adjusted. Over time uPVC Patio Doors may drop due to the fitted heavy panes of glass. All misalignment issues need a professional to service them and Budget Locksmiths Nottingham has a team of Locksmiths in Sandiacre ready to take your call. The locks on a uPVC Door are Multipoint Locks that put the locking points into position when the door shuts so that when the key turns to lock the door, everything is held securely in place. Metal on metal contact can cause issues with the Multipoint lock that also houses the Gearbox on the Mechanism Strip which can fail due to a mechanical fault. There are different types of Multipoint locks available so give us a call to ensure the correct one is replaced into your door. Panels are part of the make up of a uPVC door which gives flexibility in replacing or changing them for something a bit different as plain panels can be replaced by plain, patterned or frosted glass, handy if you have just moved into a new home and want to make your mark, if you need a panel replaced because of damage or you want a Pet Flap putting in or taking out our uPVC Door Repair Team can do it all. If you are looking to change any of your internal or external doors, we have a brochure for you to browse through with a large range of uPVC Door for you to choose from that also offers an exclusive range of Composite Front Doors.
Offering a total uPVC Door Repair Service wherever the door may be is what our friendly team of Locksmiths in Sandiacre have years of experience in so you will be in safe hands when you give us a call for a FREE No Obligation Quote for any of our services to get the job done. All Parts are warranted for 12 months.
Lock Change
The team at Budget Locksmiths Nottingham covering the Sandiacre area have an excellent reputation in all aspects of the Locksmith Trade and Locks are what we do! We supply quality locks and we expertly fit and replace locks, we Repair Locks, Re-Key Locks and Install New Locksets. Euro Cylinder Anti-Snap Locks are fitted as a standard for both Residential and Commercial Properties and these locks come with 5 keys and carry the Ts007 Insurance Company requirement. We have locks for External and Internal Doors, Patio Doors, Windows, Garage Doors Defenders, Sheds, Outbuildings, Gates in fact anything that needs a lock we will have a lock fit for purpose. We have a Safe specialist who has years of experience working with both Residential and Commercial Safes and Vaults and for the Commercial sector in particular we are able to supply and fit all types of lock suitable for all types of businesses. Mechanical Code Locks, Keyless Locks, Keyless Combination Wheel Cylinder Locks, Master Key Systems, Door Entry Systems, Registered Key Systems. For homes and businesses in Sandiacre we offer a FREE Risk Assessment and Security Audit designed to help you make your home or business as safe as it can be. There will be no Hard Sales Techniques from our courteous and friendly staff who will be just there to advise and discuss what is available on the market today so if it has been a while since the locks were reviewed then maybe a fresh pair of eyes could help, give us a call to arrange a time convenient to you. If you are already looking for a lock to upgrade security then consider the Brisant Ultion Lock that goes over and above Insurance company requirements with a Ts007 3 Star Diamond rating. The Brisant Ultion Lock is an investment for the home or business and you will find it and all our locks competitively priced at Budget Locksmiths Nottingham. Give us a call for more details on how this lock can specifically benefit you.
uPVC Window Repairs
Our team of Locksmiths in Sandiacre are experts in uPVC Window Repairs and no problem is too small. uPVC Windows have pretty much the same components as a uPVC Door with the main differences being that there are a different range of handles available, the main component is Glass usually Double Glazing and they have Seals to make the window airtight. Our Locksmith Team in Sandiacre carry out a full range of Repairs on uPVC Windows from Misting and Fogging on the Double Glazing, Replacing Seals to sort out those Draughts and Leaks, Handle Replacement, fitting new Hinges, Lock Mechanism and Gearbox Replacement, We can also fit new uPVC Windows if you are looking replace them or sell your property, as new windows appeal to buyers. Safety Feature accessories are available to be purchased and fitted such as uPVC Window Hooks and Cables which work by restricting the width that the window can extend to when open. Handy if you have small children around. For affordable rates on all our services give us a call, send an email or request a call back.
Window Boarding Up
Following an accidental broken window, or if you have been a victim of a break in or vandalism another sought after service we offer is the 24/7 Window Boarding Service which is available for both Commercial and Residential Properties. Using the latest Boarding techniques of boarding from the inside we ensure that the property is secure in order to deter unauthorized access until our Next Day Glass Replacement Service restores the area to its pre damaged condition. Our Boarding Team will be on hand to support and carry out any further work required such as replacing locks and we even stay to clean up and dispose of the broken glass. Window Boarding is also suitable if a property is empty or some privacy is required for the shopfront of a business that is closing down. Whatever the reason you can have confidence that when you call Budget Locksmiths Nottingham in Sandiacre at any time for a FREE No Obligation Quote with No Call Out Charges you will get quality workmanship just when you need it.
Auto Locksmiths
Our highly trained Auto Locksmith Team in Sandiacre offer a Vehicle Lock Picking Service, Vehicle Boot Opening and a Vehicle Re-Entry service using specialist Auto tools that cause no damage to the lock and just what you need if you have lost your keys or accidentally locked them inside your vehicle. Work can be carried out on Cars Vans and Lorries which is handy if you are on a job in Sandiacre and need to get back on the road as soon as possible. The Auto Locksmiths in Sandiacre have a super quick response time and offer a 24 hour service over 7 days a week. We cover an extensive range of makes and models of vehicles but if you want to check just call with the Make Model and year of your vehicle and you will get a FREE No Obligation Quote on the spot.
Motorcycles are covered for Ignition unlocking, the removal of snapped keys in the ignition, opening of Motorbike Security Locks and Padlocks, Seat Compartment Unlocking, Pillion Seat unlocking, and opening the Top Box. Don't try and pick any vehicle Lock yourself, it really will be cheaper to give our Auto Locksmiths a call to get you on your way with the lock intact.
Crime Prevention In Sandiacre, Nottingham
Good news for Sandiacre that compared to a lot of areas in Nottinghamshire the crime rate in Sandiacre scores lower than average. Maybe the Community Payback scheme has something to do with the lower figures where offenders, sentenced with a predetermined number of supervised work hours doing tough and demanding work improving the community areas of Sandiacre. If you have a work project that would benefit the community, get in touch with your Police who are keen to receive nominations for Community Payback Projects.