Nestled in the heart of Radford, Budget Locksmiths Nottingham is your reliable partner for comprehensive, affordable locksmith solutions. As your local locksmith, we are committed to delivering swift and efficient services, tailored to meet the unique needs of the Radford community. Our close proximity to the city centre allows us to respond quickly to calls in the inner city areas, ensuring that your security needs are met promptly. Whether you're dealing with a lockout, need a lock replacement, or require a more complex locksmith solution, our team of experienced professionals is ready to assist.
Our services extend beyond traditional locksmith tasks. We offer window boarding up services for emergencies, commercial door repairs to keep your business running smoothly and boarding up services to secure your shop premises or home. We also handle all door and window repairs, commercial high security lock change or a lock changes for your home with anti snap protection, broken glass replacement and broken key extraction. For those inconvenient moments when you've locked your keys inside your vehicle, our auto locksmith service is available to retrieve them. We also offer key extraction for vehicle keys. At Budget Locksmiths Nottingham, we understand the unique security needs of the Radford community. Our dedication to providing fast, local and cost effective solutions has made us the go to choice for locksmith needs in Radford. Trust us to deliver the Best Value Radford locksmith services, whenever you need them.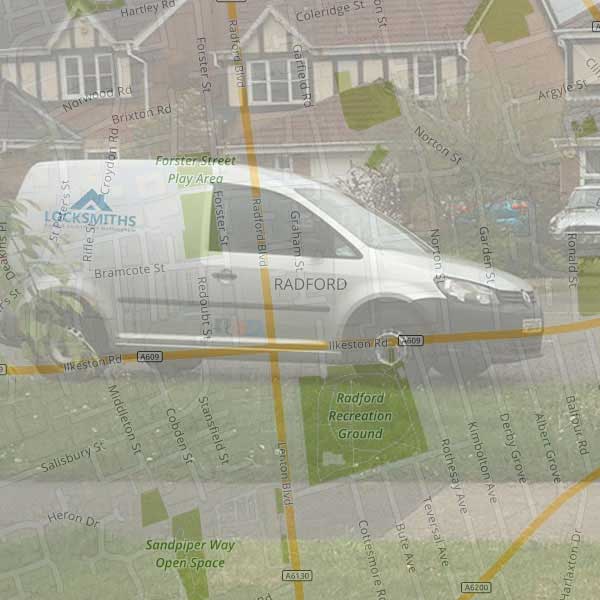 Lockout Emergency
How frustrating arriving back at home after a great night out and you can't find your key and it was the ONLY key you had to get in. You need a reliable and local to Radford locksmith who will turn up and get you in with the minimum of fuss, our locksmith in Radford area will always opt to pick the lock open utilising their knowledge and specialist tools, always non-destructive opening. We can also carry out a complete lock change fitting an Anti-Snap Cylinder Lock that comes with 5 keys to ensure you are unlikely to have the same problem again.
Window Boarding Up
Our local Radford Locksmiths are available 24/7 for a reputable boarding service on both Commercial and Residential properties. Reassuringly, we have no restrictions on the size of area to be boarded and all our boarding is secured from the inside of the premises ensuring peace of mind until a more permanent solution can be arranged. You can count on our professional Locksmith in Radford 24 hours and will be on hand to advise further when on site.
uPVC Window Repairs
A broken window instantly reduces comfort and security, becoming a temptation for burglars or further vandalism. For uPVC windows, Budget Locksmiths Nottingham serving the Radford area offer a next day replacement glass service aiming to get your property as good as new in no time.
Auto Locksmith Radford
Not all locksmiths offer this auto service but Budget Locksmiths Nottingham do and it's available in the Radford area! We open a high percentage of vehicle locks to retrieve keys when locked inside, left in the ignition or boot, we pick open the lock safely utilising professional tools so you can be assured there will be no damage. A call to us will have a locksmith with you within the hour and your car keys back in your hands.
Landlords And
Estate Agents
All our locksmith services in the Radford area are available on a 24/7 basis, whatever you need just give us a call, we will listen to your problem, offer expert advice and a speedy resolution. All our parts are warranted and no job is too small.
Emergency Locksmiths
Criminal damage or a Robbery to your property whether it is residential or commercial needs a fast response from not just the Police but a reputable local Radford Locksmith. Give us a call and we can have one of our team local to Radford on hand to secure your property or premises without delay.
Crime Prevention In Radford, Nottingham
It pays to be aware of the level of crime in your area in order to take the necessary precautions in securing your home or business. Call Budget Locksmiths Nottingham covering the Radford area if you have any concerns or would find it helpful to have information on what is available on the market today to upgrade the security of your property.