In the vibrant district of St Ann's, nestled within the heart of Nottingham, you'll find Budget Locksmiths Nottingham, your local expert for all locksmith needs. Our central location allows us to swiftly respond to calls from both residential and commercial clients, ensuring your security concerns are addressed promptly. From the inconvenience of lockouts to the necessity of lock replacements, our seasoned professionals are always on hand to provide immediate assistance.
Our range of services is broad and designed to cater to the diverse needs of the St Ann's community. We're there for you round the clock with our emergency services, ready to help when you're locked out or when your business needs immediate attention. Our commercial door repair services ensure your business operations are never disrupted, while our window and shop boarding up services provide security in times of emergencies. We also take care of all door and window repairs, commercial lock changes and broken glass replacement. Even when you're dealing with a broken key, we're there to extract it. At Budget Locksmiths Nottingham, we're not just a service, we're a part of the St Ann's community, committed to ensuring your security at all times. Trust us to deliver top quality, cost effective locksmith services, right when you need them.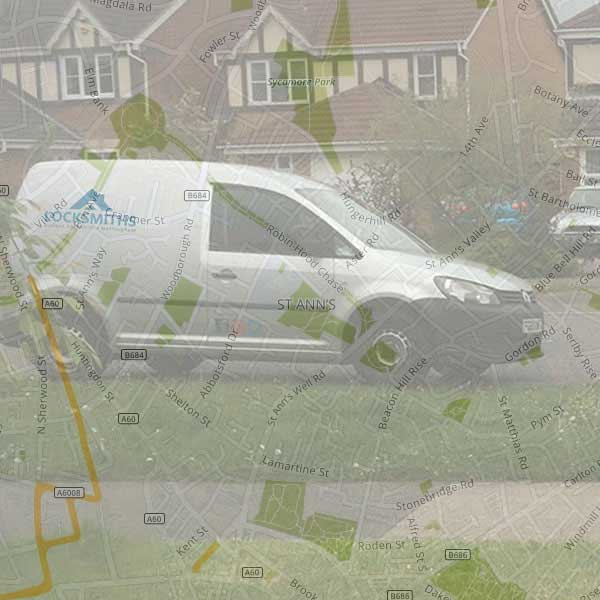 Lock Change
Losing a set of house keys is a stressful situation that can leave you feeling vulnerable in your own home. Call our Budget Locksmith for St Ann's and we can change locks on any or all the doors in the home. Our local St Ann's Locksmiths supply and fit Euro Cylinder Locks, Mortice Locks and Yale Locks restoring security and peace of mind. All our locks come with a 12 month warranty and 5 keys.
Do you have an allotment on the largest site in England? We can supply and fit locks to sheds, lock ups, boxes, in fact anything and anywhere where you want to keep the things that are valuable to you safe and secure. Our local locksmith to St Ann's will be happy to help you, give a call as no job is too small.
uPVC Door and Window
Where possible, we will repair a door or window saving you the cost of having to buy a replacement. For doors we repair mechanisms, hinges, handles, adjustments and realignments issues and fit replacement panels. For windows we repair mechanisms, hinges, espags and handles. Call your local St Ann's locksmith to discuss the options.
Broken Glass Replacement
A ball through your window, an accident in the house or vandalism, whatever the reason, broken windows need an immediate fix to maintain the security on both residential and commercial properties. Budget Locksmiths Nottingham is available 24/7 to carry out a full boarding service and return the next day to replace the glass. We also carry out repairs on windows with double glazing.
Auto Locksmith
A local locksmith that can retrieve your keys that have been accidentally locked in the car or the boot has to be worth his weight in gold. You only need this number to make that call 0115 772 2107.
Emergency Locksmiths
Hardly a day goes by when someone, somewhere needs a locksmith in an emergency. Don't you be left wondering who to call by keeping our number handy, we run a 24/7 operation for all our services and will send our local St Ann's locksmith out to you for a fast efficient service.
Crime Prevention In St Ann's, Nottingham
St Ann's is close to the city centre of Nottingham and so is a target for crime or a refuge for criminals. Make sure you report vandalism or criminal activity seen in your area to the local Police.