Arnold Locksmith Services by Budget Locksmiths Nottingham is the trusted local locksmith provider for residents and businesses in Arnold and the surrounding areas. With years of experience, we have established ourselves as a reliable source for top quality locksmith solutions.
Our comprehensive range of services caters to both residential and commercial clients. From lock changes and repairs to the installation of high-security locks, our skilled locksmiths are equipped to handle any locksmith requirement. We understand the importance of maintaining the security and safety of your property.
We offer 24/7 emergency locksmith services to ensure you are never stranded during unexpected lockouts or security emergencies. Our quick response team is available round the clock, ready to assist you promptly. Whether you find yourself locked out of your property or need immediate help with a broken lock, we strive to resolve your locksmith issues efficiently.
Our Arnold Locksmiths are committed to making customer satisfaction top priority. Our team takes the time to understand your specific needs and provide personalised solutions. We offer expert advice and guidance to ensure the security of your property. Our friendly and professional locksmiths are always ready to assist you.
With a focus on professionalism, reliability and attention to detail, our highly trained technicians stay up to date with the latest locksmith techniques and technologies. When you choose Arnold Locksmith Services, you can trust that you are receiving exceptional service from experts in the field.
For all your locksmith needs in Arnold and the surrounding areas. Contact us today for reliable, efficient and professional locksmith solutions that give you peace of mind.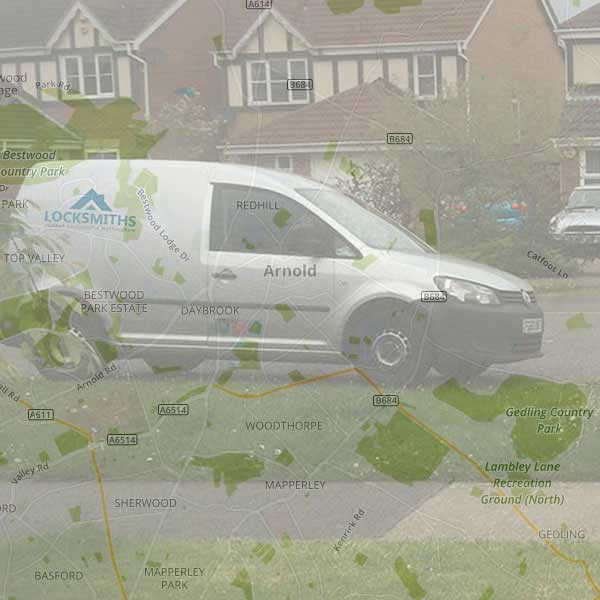 uPVC Door Repairs
Doors of the house are the portals to our personal lives and belongings so in order to provide protection for your family and possessions, this means making sure that at least all the outer doors of a property are well secured. Budget Locksmiths Nottingham, the Locksmith working in the Arnold area are who you need to call for problems you have with any door in your house as we work daily correcting door faults no matter how small the problem, ensuring that all your doors are working properly. Call us for a lock change, we supply and fit as standard Euro Cylinder Anti Snap Locks which go above Insurance Company requirements and come with 5 keys. We also supply and fit uPVC Door Handles, Door Hinges, Door Lock Mechanisms and Door Centre Cases. These are the parts that enable the door to function correctly but we also have experienced Locksmiths in Arnold that can realign your door or supply and fit replacement Glass and Panels. All parts from Budget Locksmiths Nottingham come with a 12 month warranty and are available 24/7.
uPVC Window Repairs
Broken windows, faulty windows, windows with broken parts and windows that need replacing Budget Locksmiths Nottingham have seen them all. Our accomplished and friendly team covering the Arnold area can pretty much fix any uPVC Window problem you throw at them. We supply and fit all replacement parts required and all come with our popular 5 year warranty to round off our 5 star service. Although we most commonly work with uPVC Windows we do repair all types of manufactured and supplied windows including Double Glazed Windows. Budget Locksmiths Nottingham can supply and fit all manner of uPVC Window Spare Parts, Espag Handles, Window Hinges, Lock Mechanisms, Gearboxes, Hooks and Cables. Just give us a call for a free no obligation quote, we are sure to have a solution to your problem.
Window Boarding Up
Budget Locksmiths Nottingham are experts at keeping a property safe and secure after window damage. This service is widely used by Residential and Commercial properties alike with no restrictions on the amount of boarding required at any one time. Our local to Arnold Locksmiths are available 24/7 for this vital service and arrive at the scene ready to get to work with high quality boarding materials, the tools to fit the boarding and using the most up to date methods of boarding from the inside, giving the highest level of security and prevention of access until replacement glass can be fitted. Budget Locksmiths Nottingham offer 24hr Glass Replacement along side our Boarding service that is designed to restore your property in the shortest possible time and as you probably will have other things to worry about, we also clean up all the broken glass or damage debris from the scene so there is nothing left to attract unnecessary attention. Your call to Budget Locksmiths Nottingham working in the Arnold area will have an friendly experienced locksmith on site ready to work and support with any other immediate security concerns you may have.
New Doors Fitted
Don't worry if your door has gone beyond repair or in the case of simply wanting an upgrade in external doors for improving home emmisions, a new door can help to reduce escaping heat from within your property, making you great savings throughout the year, Budget Locksmiths Nottingham covering Arnold Area has a brochure for you to browse through and choose from a selection of brand new uPVC Doors or from a range of luxury Composite Doors, all without pressure or hard sell and with a free no obligation quote to get them fitted at a time convenient to you.
Accessories and Spares
for Doors & Windows
Being local to Arnold, Our engineers want to deliver the best for customers, we offer a range of accessories that we can supply and fit and you can choose from Numerals for the front of the house that come in a range of styles and colours, uPVC Letterboxes, fit a Door Chain and or a Spy Hole or a WiFi Door Viewer Camera that can be viewed on your TV providing three options to see who is at the door before you open it. Give your pet free access with a Pet Flap, we supply and fit those too.
Auto Locksmith
Few things are more critical in a day than not being able to get into your vehicle and drive off because the keys are locked inside it. Budget Locksmiths Nottingham have experienced auto Locksmiths in Arnold area able to gain access without damaging your car or the lock to get you back in motion as soon as possible. All makes and models of the best known manufacturers for cars, vans, lorries, motor homes, caravans, even the motorcycle top box can be accessed by our team day or night. We could be with you within 15 minutes of your call so keep our number handy and ready to dial at a moments notice. Please be aware that we currently only offer an unlocking service however we are able to suggest alternative contact numbers that can help for any other issues you may have.
Commercial Locksmiths
Budget Locksmiths Nottingham in Arnold understands that Commercial Locksmithing works on another level requiring specialist knowledge, equipment and more complex locks and systems to provide ultimate protection and authorized access. Budget Locksmiths Nottingham are able to supply, fit or repair all types of Commercial Windows and Doors, open any door using non-destructive methods, we offer a Master Key System for use where there are multiple doors involved, All other types of Locks are supplied and fitted including Yale, Mortice and Keyless Locks, Roller Shutter Door Repair, we supply and fit Security Door Grilles, Push Bars and Push Pads, Fire Safety Door Mechanisms, Safe Opening, Repair or Disposal and Vault Relocation or removal. We never charge a call out fee and will give you a no obligation quote at any time. There is nothing to lose by giving us a call to discuss how our Locksmiths in Arnold can make your business safer and work better for you and if you are not sure, you can arrange for us to come out to you in order to conduct a Security Audit and Risk Assessment of your business.
Emergency Locksmith
Immediate action in response to a call for help is what you will get from our Locksmith Arnold team. We have a team of expert locksmiths near you in Arnold area that are able to get you back into your property, or resolve critical security concerns such as a break in at any time of the day or night and in most cases because we have a team of experienced Locksmiths in the Arnold area we can have someone with you within 15 minutes of you making the call. Keep our number handy.
Crime Prevention in Arnold, Nottingham
Arnold is no exception to the rising crime rates and we all have a responsibility to report criminal activity without putting ourselves at risk. Arnold is a lovely market town that as history has shown, may be tempting to some with deliberate intentions of theft or causing criminal damage. A call to the local police is all you need to do to report your concerns.