In the vibrant area of The Meadows, Budget Locksmiths Nottingham is your friendly, local locksmith, offering a broad spectrum of services. Our team of highly experienced professionals is always ready to assist, providing prompt and efficient services to both residential and commercial clients in The Meadows. We understand that security is paramount, and our team is always ready to help, whether you're dealing with a lockout, need a lock replacement, or require assistance with a more detailed locksmith task.
Our services are diverse and designed to cater to the unique needs of The Meadows community. We offer 24-hour emergency services, ensuring that assistance is available at all times. If you find yourself locked out, we can swiftly open your doors, reducing your inconvenience. We also provide window boarding up services for emergencies, commercial door repairs to keep your business operations uninterrupted, and shop boarding up services to secure your premises. We handle all door and window repairs, commercial lock changes, broken glass replacement, and broken key extraction. We can also replace door handles, window handles, hinges, seals, and fit additional security like night latches, lockable sash jammers for doors or windows. At Budget Locksmiths Nottingham, we're committed to the security of The Meadows community. Our dedication to providing quick, local, and affordable solutions has made us the trusted choice for locksmith needs in The Meadows. Trust us to deliver reliable, affordable locksmith services, whenever you need them.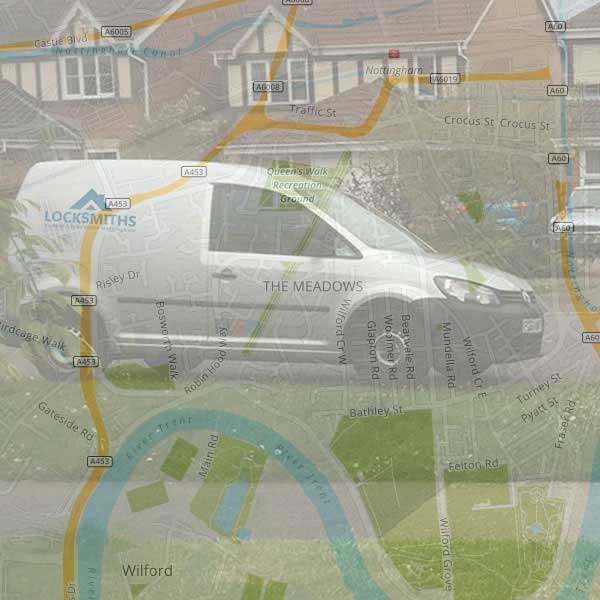 Emergency Locksmith
Have you been a victim of criminal damage and need a replacement lock or anti-social behaviour and have a broken window? Budget Locksmiths Nottingham has a team of Emergency Locksmiths in The Meadows area who can be with you in 15 minutes to fit that replacement lock, get you back into the house if you are locked out, sort out a lock that has a key snapped in it, retrieve keys that are locked in a vehicle or make use of our Boarding Service with a 24 hour Glass Replacement for broken windows. Our round the clock service is also available for uPVC Door and Window Repairs. Whatever the emergency, Budget Locksmiths Nottingham has an excellent reputation with rapid response times for getting the job done so save our number in your contacts and never be without professional support right at the time you need it the most.
uPVC Door Repairs
Budget Locksmiths Nottingham provide a 12 month warranty on all Door Replacement parts for not only uPVC Doors, Composite Doors and Wooden Doors but also Bi-Folding Doors, French Doors and Patio Doors. Our Team of uPVC Door Repair Locksmiths in The Meadows provide great customer service along with quality workmanship that will ensure you get a job well done fixing any problems with Panel and Glass Replacement, Handles, Hinges, Misalignment, Multipoint Door Locks, Centre Cases, Gearboxes, Lock Repair, Lock Picking and Entry, Key Extraction, and Closers. We also do Frame Repairs, Door Installation, Panel Replacement and Glass Installation. As well as fixing your uPVC Door we can also supply and fit a range of accessories such as Letterboxes, Door Knockers, Numerals in a range of styles and colours for the front of the house and Pet Flaps that can be inserted or removed with an original panel fitted as a replacement. Additional Security features include Spyholes, Door Chains and WiFi Door Cameras that allow you to see who is at the door without you having to open it.
Budget Locksmiths Nottingham are a company you can rely on, we can be contacted by phone, email or by requesting a call back so get in touch and let our Locksmiths in The Meadows return your door to as good as new.
Lock Change
Recently moved or about to move into a new home in The Meadows? To avoid the risk of duplicate keys from the existing locks it is a good idea to get a new set of locks installed with their own sets of keys. It is important that you get the right locks for the right doors as a lock for the bathroom door will not be good enough for the front door, so let an experienced Locksmith from Budget Locksmiths Nottingham help you with our Free New Home Security check in The Meadows area where we will identify any areas that may be of concern and suggest suitably approved locks for a Front Door, Side Door, Back Door and Patio Doors. We use Euro Cylinder Anti Snap Locks as standard that come with a set of 5 keys and although this lock is most commonly used on uPVC Doors they are also suitable for use on Wooden, Composite and Aluminium Doors. For Flats and Apartments where groups of tenants reside, we have the ThumbTurn Euro Cylinder Lock which has the same Anti Snap features but there is a knob on the inside of the door, meeting Fire Regulations in case of fire allowing easy access to the outside of a building without the need for a key and then the door automatically locks again when shut. Our team of Locksmiths are also able to upgrade locks with a choice available from a wide range of locks from Big Name Brands. Give us a call anytime, send an email or request a call back for more information or any queries you have about your locks.
Landlords & Estate Agents
Budget Locksmiths Nottingham are able to offer a comprehensive range of services in The Meadows through a tailored Service Contract agreement so if you have a portfolio of properties and you would like dedicated 24/7 Locksmith support to deal with tenants on your behalf for Window and Door Repairs, Changing Locks, Assisting on Lockouts to name a few, all our reputable and trustworthy Locksmiths use non destructive methods of working making sure no additional damage is sustained. With a super quick response time and offering customized methods of payment on behalf of tenants we will be there to sort out any issues so that you don't have to. Give us a call or send us an email with your requirements to get a Budget Locksmiths Nottingham Service Contract set up.
uPVC Window Repairs
Windows can get broken at any time and need boarding up until a new pane of glass can be fitted. Budget Locksmiths Nottingham have a team of uPVC Window Repair specialists in The Meadows that are available 24/7 to come and board up broken windows, doors patio doors or shopfronts there is no limit to the size that they can deal with and in addition we also offer a 24 hour Glass Replacement Service to restore the integrity of the property or building. This service is available for Residential and Commercial customers alike as we are able to replace Double Glazed Units, Toughened Glass, K Glass, Self Cleaning Glass, Patterned Glass, Georgian Bar Glass and Glass with Lead Work. Other repairs that may be needed are on the Frames, Hinges, Handles, Window Locks where the Lock Mechanism and the Gearbox are located. Our team are experienced in all aspects of uPVC Window repair so don't leave your property vulnerable if you have a problem, save our number and give us a call for a FREE No Obligation Quote, No Hidden Charges and not even a Call Out Fee for the best value Locksmith in The Meadows area.
Auto Locksmiths
The moment the boot lid slams shut and you realize the keys are still in the boot in The Meadows area you will be relieved to hear that our Auto Locksmith Unlocking Services cover an extensive range of makes and models of vehicles that includes Cars, Vans, Lorries and Motorcycles. Our Auto Locksmiths have a super quick response time for unlocking and gaining access, are fully trained in non destructive lock-picking methods using professional tools to gain access to your vehicle if you have lost a set of keys or locked the keys inside the vehicle whether through the door or the boot. Services available for Motorcycles include Snapped Key Removal, Ignition Unlocking Seat Compartment and Pillion Seat Unlocking, Security Chain Unlocking and Removal. For any of these reasons call our trusted local Auto Locksmiths for an affordable reliable service. If you are not sure if your vehicle is covered just give us the details of your vehicle by sending us an email or we can tell you straight away over the phone.
Crime Prevention In The Meadows, Nottingham
Anti Social Behaviour is a crime that is on the rise in all parts of the UK and The Meadows is no exception to this statistic. The local Police collect data on this and all crimes in the area and a lot of the time only become aware of incidents arising because of information given to them by the public. Help keep The Meadows local Police aware by reporting such incidents and potentially stop someone becoming a victim.