In the heart of Mapperley, Budget Locksmiths Nottingham stands as a beacon of reliable, affordable, and expert locksmith solutions. We are your local locksmith, committed to offering a swift response and efficient service, tailored to meet your specific needs. We understand that when it comes to security, immediate access to professional help is crucial. Whether you're locked out, need a lock replacement, or require a more complex locksmith solution, our team of experienced professionals is ready to assist.
Our emergency services are just a phone call away, ensuring that your security issues are resolved promptly. We also offer unique services such as keying locks alike, providing you with the convenience of accessing all areas of your property with a single key. At Budget Locksmiths Nottingham, your security is our priority. Our dedication to providing fast, local and cost effective solutions has made us the go to choice for locksmith needs in Mapperley. Trust us to deliver the best value locksmith services, whenever you need them.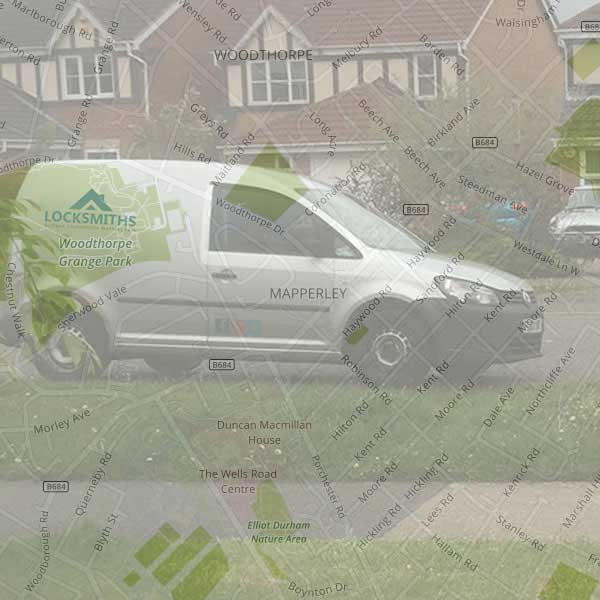 uPVC Door Repairs
Is your uPVC Door Sticking? It could need Realigning, Has a Key Snapped in the Lock? The piece trapped in the lock needs Extracting. Have you locked yourself out? You need a lock picking expert to regain access. These are a few reasons that you need to call a locksmith and who better than Budget Locksmiths Nottingham who are local to the area of Mapperley and aim to be with you within 15 minutes of your call. We can also fix any other problem that you may have with your uPVC Door such as problems with the mechanism in the central case of the door, finding your door difficult to lock or unlock, problems with the gearbox, hinges, re-packing of the panels required in the central part of the door. Our friendly professional team have all the expertise required to repair uPVC doors using non destructive methods of working and are happy to answer any questions you may have whilst explaining the repair process to you. Maybe you have thought of replacing your uPVC Door? Whilst Mapperley Budget Locksmiths in Nottingham have a great selection of new uPVC Doors and also a stunning range of Composite Doors if you wish to upgrade, the cost of a new door maybe more than you need to pay as we also have an extensive range of glass and panel designs that can be used to replace like for like panels or you can choose a whole new design. We are happy to be able to offer our customers a range of options that will suit everybody and most importantly will have your door working and looking as good as new in no time at all. Look up our number on this page and give us a call.
Lock Change
In terms of security requirements, Budget Locksmiths Nottingham go above and beyond with the locks and handles that we use as standard replacements. The current Insurance Company requirement is a 3 star level of security protection. The Euro Cylinder Anti-Snap Lock that comes with 5 keys is the lock that Budget Locksmiths Nottingham use as standard, which on its own has a 3 star level of security, so put that together with our 2* handle and you already have yourself a 5 star level of security that will provide exceptional protection against break-ins or any unauthorised access. All parts used by Budget Locksmiths Nottingham come with a 12 month warranty as part of our 5* service.
Budget Locksmiths Nottingham are also able to offer our customers additional uPVC Door Security in the form of Shootbolts for Double doors or French doors or Patio doors, Security Chins, Restrictors, Spyhole or a WiFi Door Viewer Camera that is linked to your TV and allows you to see what is happening outside your door before you get there. Give us a call to see how we can help you provide a more protected environment for your family or business.
uPVC Window Repairs
uPVC Windows being the most popular choice nowadays are the kind of windows that Budget Locksmiths Nottingham are called out to do repairs on most frequently however our 24 hr 7 day a week window repair service is available for carrying out repairs on any type of window. The kinds of issues our Locksmith professionals in Mapperley are used to dealing with are broken windows, windows becoming stuck, problems with the mechanism, the Espag handles, the hinges or the seals and all of these parts can be repaired or replaced saving the cost of having to buy an entire new window. All the replacement parts that we supply and fit come with a 5 year warranty which is all part of our popular 5 star window repair service. All repairs are done by an experienced and friendly team without causing damage to any of the other parts of the window saving you the cost of possible additional items. Another regular call we get is that the key to the window has been lost. We are able to pick the lock of a handle, remove it then Budget Locksmiths Nottingham have a range of various styles and colours of handles to offer you in order to choose a replacement handle, along with a new key of course! however you may have a window that has markings or a number that allows us to just supply a new key. Give us a call if you are experiencing any of these difficulties or even if you are not sure what the problem is, the Budget Locksmiths Nottingham team are at your service and able to arrange a visit immediately or at a prearranged time convenient to you.
Auto Locksmiths
Budget Locksmiths Nottingham are pleased to be able to offer our upgraded Auto Locksmith Mapperley service now available in your area supporting the majority of vehicle makes and models on the road today that includes not only cars but vans, lorries and motorcycles. Our trained Auto Locksmith specialists will gain access into your vehicle if the keys have been lost or accidentally locked inside the car and remove a key that has snapped in the lock. Delivering a 24 hours a day, every day call out service. If you require some friendly advice, simply give us a quick call.
Commercial LocksmithS
Security is a prime concern for a business of any size and having a reliable and trustworthy team of Locksmiths that are able to plan and implement jobs of all sizes so that your business doesn't have to stop trading to sort out important security issues. Budget Locksmiths Nottingham Commercial services are on call day and night for 365 days of the year without NO hidden fees or call out charges.
Using non destructive methods of working Budget Locksmiths Nottingham has a wide range of services on offer for our Commercial sector, we work with Vaults and Safes, we cater for all Commercial Window and Door Requirements, Window Boarding, Door Opening, All Types of Locks supplied and fitted such as Mechanical Code Locks, Keyless Locks, Keyless Combination Wheel Cylinder Locks. Roller Shutters Repaired, Security Door Grilles, Push Bars, Push Pads and Door Closers all supplied and fitted. Fire Safety Door Mechanisms, Registered Key Systems, Master Key Systems, Door Entry Systems in fact we have such a wealth of knowledge in our Commercial team to be able to handle any problem you can throw at us.
Give Budget Locksmiths Nottingham a call anytime to arrange for us to come out to you and carry out a FREE Security Audit and Risk Assessment or to discuss options of securing one of our long term Service Contracts available at competitive rates and specifically tailored to your business with our committed support throughout.
Emergency Locksmiths
An Emergency whether you are a Residential or Commercial customer deserves a rapid response and Budget Locksmiths Nottingham aim to be with you within 15 minutes of your call. Call us anytime and we will be on hand to support you with any of our numerous Locksmith services that are available on an everyday basis. You can trust Budget Locksmiths Nottingham for a fast, dependable and efficient service in times when you need help the most.
Crime Prevention In Mapperley, Nottingham
Mapperley is no different to any other part of Nottingham in that it has criminal statistics that affect residential and commercial areas alike. Without putting yourself in any danger, Nottinghamshire Police are eager for you to report any category of criminal activity observed in order to keep Mapperley a safer place for all.