Sherwood is a large district 1.5 miles from the city of Nottingham and has around 24 buildings which are of special architectural of historic interest. Several of the listed buildings have carved and dated stones from 1870 to 1910 which was when the Lace Industry was becoming established and there was significant development in the Sherwood area. Today, Sherwood has a strong sense of community with long established groups such as the The Bobbin Lace Society and it hosts a popular Annual Art Event for local and visiting artists. As well as working on Commercial and Residential properties, our Locksmiths in Sherwood Area are available 24/7 to assist the community at large by being able to advise on security options, gain access if you are locked out, replace, repair or fit new locks on doors, board and replace broken windows to Community Centers, Clubhouses, Halls, Theatres and any public building that needs robust protection from intruders. 0115 772 2107.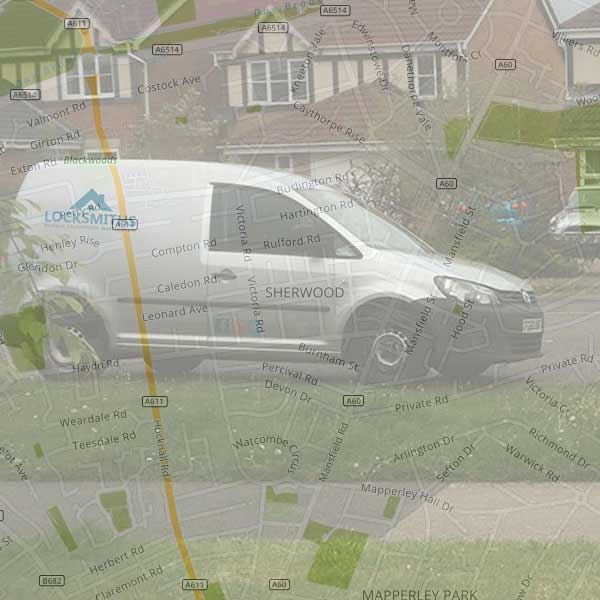 Lock Change Sherwood
Have you just moved to Sherwood? Changing the locks should be a priority for making your new home safe. All our locks come with a 12 month warranty and 5 keys. Our Sherwood Locksmiths will be happy to advise on suitable locks and security for all around your home giving you the satisfaction of knowing the property is well protected throughout.
uPVC Door Repairs Sherwood
uPVC Doors are very popular due to their affordability and the fact that they are durable and require very little maintenance, however in order to work, they have a Full Unit Mechanism integrated into the door and it's when this stops working the problems occur. Nobody wants a door that doesn't open or shut properly, a working lock is a vital safety feature, so give us a call and one of our Local Sherwood Locksmiths will be with you within the hour to repair or replace the mechanism.
Garage Door Repairs Sherwood
Lots of people keep tools and expensive items in the garage, so we make it our business to have a range of locks and bolts suitable for giving you that extra piece of mind, such as the Industry standard, Police approved Garage Defender which sits in front of the garage and is secured with a padlock. Call Budget Locksmiths Nottingham covering the Sherwood Area to ask what we can do for you.
uPVC Window Repairs Sherwood
It's getting to that time of year when the lawn mower is out on almost a weekly basis and sometimes a small stone sent flying towards your window can cause maximum damage, so it's a good job that for uPVC windows, your local locksmith in Sherwood offers a next day replacement glass service and will get your property as good as new in no time.
Auto Locksmith Sherwood
Not only can we get you back into your house when you lock yourself out, but we can also get you back into your car! Remove the stress from the situation and put the Budget Locksmiths Nottingham number into your phone so we are to hand for just those times when the least expected happens.
Crime In Sherwood
Maybe you have a neighborhood Watch group in your area, it certainly pays to be aware of what is going on. Keep Sherwood safe and report any suspicious activity to your local Police.