In the lively district of Sherwood, Budget Locksmiths Nottingham is your trusted partner for comprehensive, affordable locksmith solutions. As your local Sherwood locksmith, we are committed to delivering prompt and efficient services, tailored to meet the unique needs of both residential and business communities in Sherwood. Our location allows us to respond quickly to calls, ensuring that your security needs are met promptly. Whether you're dealing with a lockout, need a lock replacement, or require assistance with a more sophisticated locksmith task, our team of experienced professionals is ready to assist.
Our services extend beyond traditional locksmith tasks. We offer emergency 24 hour services, ensuring that help is available whenever you need it. If you're locked out, we can open your doors quickly and efficiently, minimising your inconvenience. We also offer window boarding up services for emergencies, commercial door repairs to keep your business running smoothly, and shop boarding up services to secure your premises. We handle all door and window repairs, commercial lock changes, broken glass replacement, and broken key extraction. At Budget Locksmiths Nottingham, we understand the unique security needs of the Sherwood community. Our commitment to providing fast, local, and cost-effective solutions has made us the preferred choice for locksmith needs in Sherwood. Trust us to deliver the best value locksmith services, whenever you need them.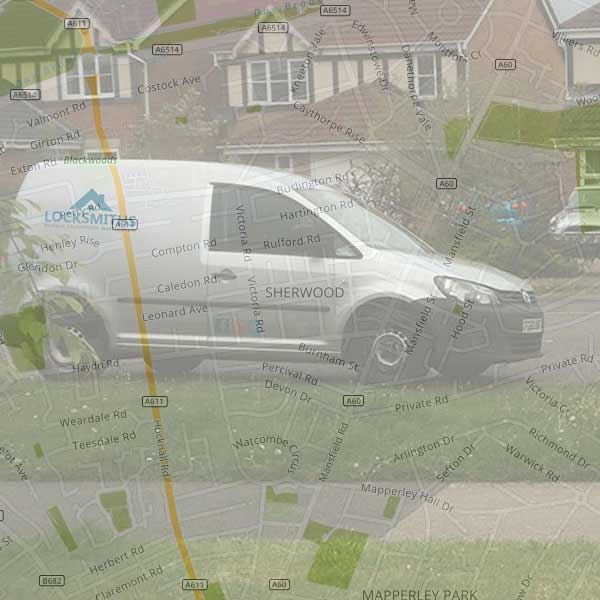 Lock Change
Have you just moved to Sherwood? Changing the locks should be a priority for making your new home safe. All our locks come with a 12 month warranty and 5 keys. Our Sherwood Locksmiths will be happy to advise on suitable locks and security for all around your home giving you the satisfaction of knowing the property is well protected throughout.
uPVC Door Repairs
uPVC Doors are very popular due to their affordability and the fact that they are durable and require very little maintenance, however in order to work, they have a Full Unit Mechanism integrated into the door and it's when this stops working the problems occur. Nobody wants a door that doesn't open or shut properly, a working lock is a vital safety feature, so give us a call and one of our Local Sherwood Locksmiths will be with you within the hour to repair or replace the mechanism.
Garage Door Repairs
Lots of people keep tools and expensive items in the garage, so we make it our business to have a range of locks and bolts suitable for giving you that extra piece of mind, such as the Industry standard, Police approved Garage Defender which sits in front of the garage and is secured with a padlock. Call Budget Locksmiths Nottingham covering the Sherwood Area to ask what we can do for you.
uPVC Window Repairs
It's getting to that time of year when the lawn mower is out on almost a weekly basis and sometimes a small stone sent flying towards your window can cause maximum damage, so it's a good job that for uPVC windows, your local locksmith in Sherwood offers a next day replacement glass service and will get your property as good as new in no time.
Auto Locksmiths
Not only can we get you back into your house when you lock yourself out, but we can also get you back into your car! Remove the stress from the situation and put the Budget Locksmiths Nottingham number into your phone so we are to hand for just those times when the least expected happens.
Crime Prevention In Sherwood, Nottingham
Maybe you have a neighborhood Watch group in your area, it certainly pays to be aware of what is going on. Keep Sherwood safe and report any suspicious activity to your local Police.