Locksmith Nottingham
Free, No Obligation Quotes from Your Local Locksmith Nottingham Company
As your local Nottingham Locksmiths, we're proud to provide a service that is both reliable and affordable, no matter the hour of the day. Our team is steadfastly committed to serving the community within both the towns and inner city areas of Nottingham. We offer an extensive range of locksmith services that far exceed the standard lock change. Our experts at Budget Locksmiths Nottingham are equipped with an in-depth knowledge of all aspects of the trade. This allows us to repair uPVC doors and windows, replace door panels, and replace double glazing, but also provide enhanced convenience with our "keyed alike" service. With this service, we can install new locks to operate from a single key - a truly beneficial addition to any household!
Tailored Locksmith Services to Meet Your Every Need in Nottingham
At Budget Locksmiths Nottingham, we understand that every situation is unique, which is why we tailor our services to meet your individual needs. Whether you're dealing with an unexpected lockout in the early hours or need a full-scale security overhaul, our team is here to assist. Our services range from emergency call-outs to scheduled security upgrades, all handled promptly, professionally, and with the utmost respect for your property. Experience the convenience and peace of mind that comes with a full-service locksmith who places your needs first - only with Budget Locksmiths Nottingham.
Emergency Locksmith
In most cases
we can be with you
within 15 minutes of calling.
Just Call
0115 772 2107
Our locksmith Nottingham services are a popular choice for both residential and commercial customers in Nottingham, why is this? our locksmiths in Nottingham are approachable at all times, providing reasonable rates 24 hours, day or night, we are able to fulfil requirements for jobs of all sizes, whether that be a for a Lock Change, uPVC Door Repair or Commercial Aluminium Door Repair, no matter what your requirements may be, with our extensive range of locksmith services, you'll be glad to read we are professional locksmiths in Nottingham with great knowledge in all aspects of the trade and are ready to provide a friendly reliable service for all Emergency Locksmith requirements and pre-booked jobs.
Upon calling Budget Locksmiths Nottingham, you'll be in good hands with our friendly team, feel free to ask as many questions as you need to, our team hold extensive knowledge and will provide best solutions for your individual situation, we provide a FREE no-obligation quote, thus at no time you'll be pressured into taking our service, we are happy to advise on all Locksmith Emergency and Non-Emergency situations.
If you find yourself in a difficult situation and require the assistance of an Emergency locksmith Nottingham personnel, please call right a way on 0115 772 2107 and our team will be happy to assist, in most cases we can have a locksmith with you within 15 minutes of calling, we'll provide a time and price over the phone so you are fully aware of our reasonable rates upfront.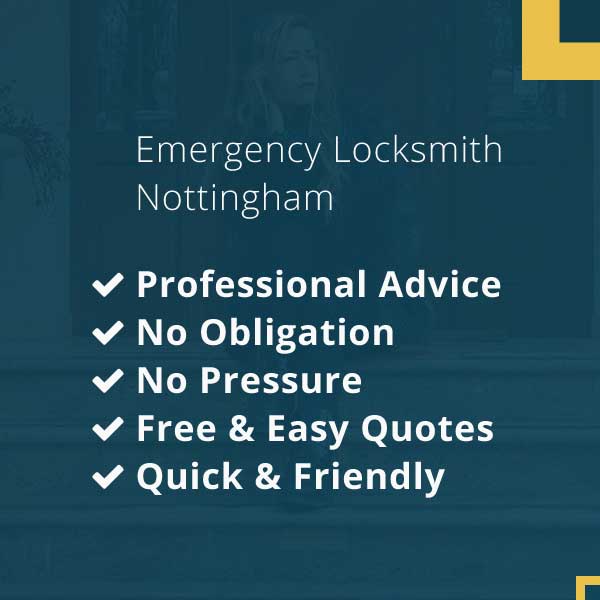 Emergency Locksmith Nottingham
Why are Budget Locksmiths Nottingham the right choice for your Emergency? if you are found to be in a difficult position, lets say for example a failed lock resulting in a locked out situation, what are your first thoughts? you'll likely want to regain access to your property in the quickest time possible, taking into account the whether may be bad and it may be in the middle of the night, it's an emergency you won't have much patience for, in this case you'll want a friendly locksmith who will reassure your problem will be resolved in a reasonable time, you'll want a locksmith in Nottingham who is available throughout the night, which are somewhat difficult to come across, you'll want a trusted locksmith who will charge a reasonable rate and certainly not overcharge taking advantage of your emergency situation. Budget Locksmiths Nottingham are keen to provide a service that's friendly, affordable and reliable, a locksmith in Nottingham that you can rely on, no matter the time day or night, reasonable rates for everybody.
Budget Locksmiths Nottingham services are available to both Residential and Commercial customers, if you are a commercial customer, if required we can provide several long-term contract services which can be suitable for Estate Agents and Property Management Firms for lock outs, lock changes, window boarding, door and window repairs and more. 0115 772 2107
FREE Quote on all Services
Booking a locksmith in Nottingham couldn't be easier with the Budget Locksmiths Nottingham company. What are the steps for receiving a free no-obligation locksmith service quote? First you must either call 0115 772 2107, or head over to our contact page, and from there you'll be assisted by a friendly member of staff, if you require advice beforehand from our professional locksmiths, please explain the situation you're experiencing so that the Budget Locksmiths Nottingham team can provide you with information accordingly.
Providing an excellent locksmith Nottingham service is important to the Budget Locksmiths Nottingham team and one that we take extremely serious, Why? we are determined to provide one of the best locksmith services in Nottingham, so therefore whether you are a residential or commercial customer, you'll certainly be well looked after with the Budget Locksmiths Nottingham company.
With our locksmiths in Nottingham you can expect excellent manners throughout communication, over the phone and in person. The price you are quoted over the phone will be the price you pay after the work has commenced and is complete. We DO NOT charge hidden fee's, you will have full confidence working with Budget Locksmiths Nottingham.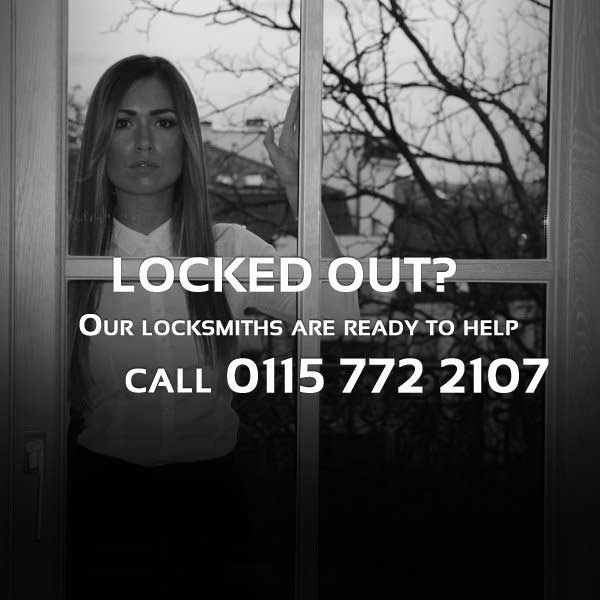 Locked Out in Nottingham?
There's no doubt about it, if you find yourself locked out, it's an extremely stressful time. Budget Locksmiths Nottingham can appreciate this and therefore will assist you at all times of the day or night, no matter where you are located, we can be there in reasonable time and have you back in without much of a wait. Remember do not be tempted to attempt to regain access yourself, it's very likely you can cause more damage and increase the costs of repair.
Our locksmiths in Nottingham will always quote prior to being dispatched to your location, so you will always receive the price given over the telephone, we do not charge any extras or hidden fee's, so rest assured you are in good hands.
Areas Covered By Our Locksmiths In Nottingham
Budget Locksmiths Nottingham are keen to cover all areas around Nottinghamshire to include the inner parts of the City, why you may ask? our locksmith Nottingham team would like all residents of Nottingham to have the same opportunity to be given a reliable locksmith service throughout their experience, from friendly advice to a quick quote over the phone including an accurate estimation time of arrival. How can Budget Locksmiths Nottingham cover all of Nottingham? is it even possible? the answer is Yes certainly, we have several locksmiths in Nottingham working for our company, and all have designated areas in Nottingham to cover, having our locksmiths spread out over Nottingham enables us to reach our customers destination in an acceptable time-frame.
What area's do Budget Locksmiths Nottingham cover? A few Of the towns we cover include Hucknall, Keyworth, Clifton, Ruddington, Beeston, Sandiacre, Stapleford, Arnold, Carlton, Mansfield, and inner City parts West Bridgford, Carrington, and Thorneywood. 0115 772 2107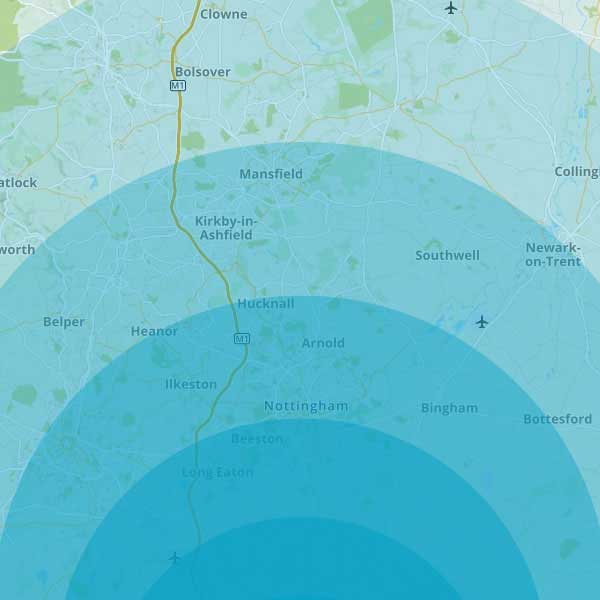 Our Locksmith Nottingham Services
Residential Locksmiths Nottingham Services
Budget Locksmiths Nottingham are professional locksmiths in Nottingham providing a vast selection of services to residents throughout the inner and outer parts of the City. Our services range from lock changes to uPVC door repairs to door opening, do note though, no job is too big or small, our locksmiths hold a wealth of knowledge and are certainly able to help with all tasks and requirements you may have, why not give us a call for a FREE no-obligation quote.
Door Opening

Anti Snap Lock Change

High Security Lock Change

Bedroom Door Locks

uPVC Door Repairs

Composite Door Repairs

uPVC Windows

Timber Windows

Garage Lock Change & Upgrades

Garage Doors

Home Safes

Safe & Cash Box Opening

Window Boarding
If you cannot find a service on our list that you require, please call or email our friendly locksmith team and they'll be happy to assist with all requirements you may have, we have an extensive range of services suited to home owners, tenants, students and businesses local in Nottingham.
Commercial Locksmiths Nottingham Services
Are you one of many Businesses based in Nottingham? Budget Locksmiths Nottingham seek to build long-term relations with businesses of all types and sizes.
Door Opening

Lock Change

Roller Shutter Door Repairs

Fire Door Repairs

Emergency Door Hardware

Safe Opening

Safe Repairs

Vault Removals

Vault Opening, Repairs

Master Key Systems

Window Boarding
Whether you are a property developer, housing agent, or a commercial business, our Nottingham locksmith team hold many years experience in the locksmithing trade therefore will be able to advise you to the best of their knowledge on hand.
We provide discount to all commercial businesses that require our locksmith services, be that a simple lock change, multi-lock change to door opening, we are available to provide contract services on an on-going basis, speak to one of our locksmith team members today to discuss your requirements.
Our locksmiths are trained in all aspects of the locksmith trade to include uPVC door repairs, lock changes, safe opening, safe removal and door opening.
UPVC Door Repairs
If you find that your uPVC door is not functioning correctly, you may want to find a suitable tradesman to assess the door prior to agreeing any work prior to knowing what the problem with your door is. Many problems with uPVC doors can accrue after repetitive use happening in due course. Signs of problematic doors can consist of flimsy handles, any movement in the door and frame whilst closed shut, or catching when opening and closing. No matter the problem you're experiencing, our team are in the know how and can assess your door prior to providing a free no-obligation quote on the spot. Keeping your uPVC doors well maintained will lesson the chance of the door becoming faulty, if you require any advice on maintaining doors please give us a quick call.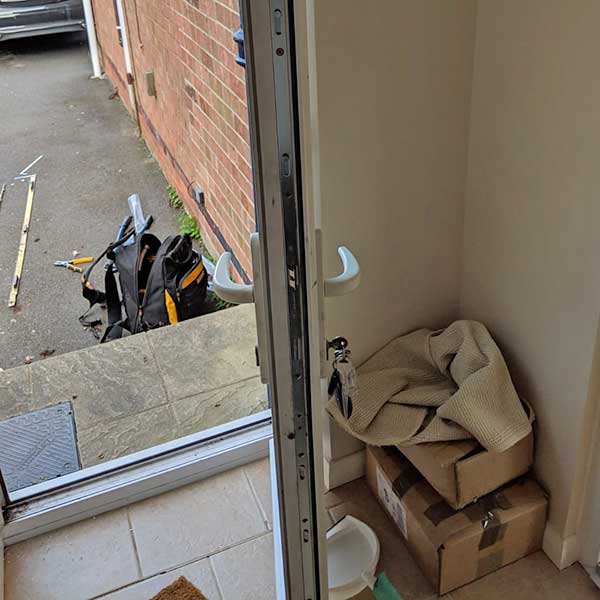 Pay Our Locksmith In Nottingham By Card
It's that simple! Budget Locksmiths Nottingham accept Credit and Debit cards in person and over the phone, so for those situations you might find yourself in, for example, lost your wallets and keys, this is not a problem, a quick call to a friend or family member can enable them to pay us directly over the telephone.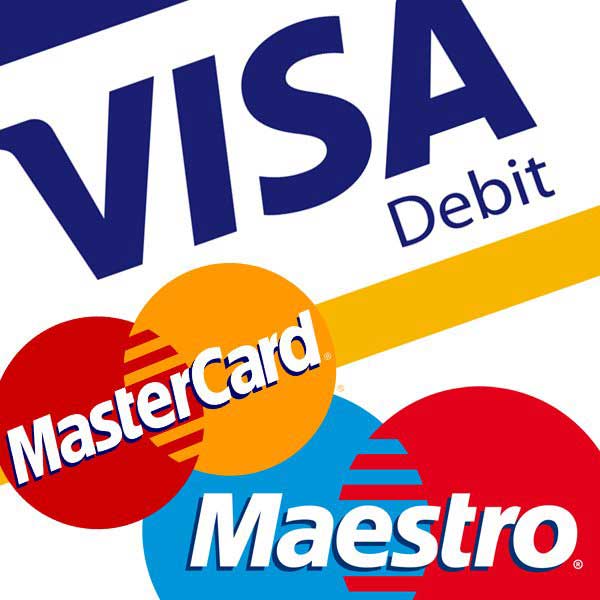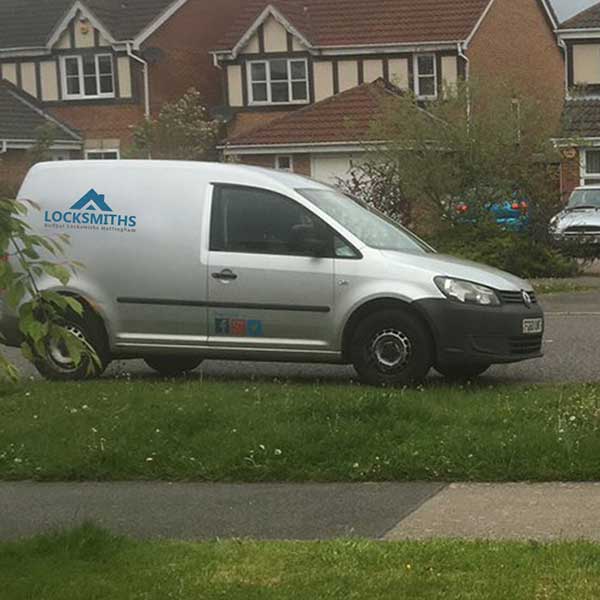 Why Use Budget Locksmiths Nottingham?
Our locksmiths make themselves available 24 hours a day to assist customers at all times day and night, if you require your door opening in the middle of the night, we'll be there. Being a 24 hour locksmith company enables us to attend a variety of customers under many differential circumstances. Our prices are reasonable, and the workmanship quality is next to none, no job is too big or small you'll be happy to read. Free quotes, no hard sales with the Budget Locksmiths Nottingham company.
Give us a call on 0115 772 2107.
Our Nottingham Locksmith
Services Include
Anti Snap Lock Change
Our locksmiths in Nottingham will arrive fully equipped with a range of Anti-Snap, Anti-Bump and Anti-Drill Lock Cylinders, the most popular type for homes are Euro Cylinders which are found within uPVC and Composite Multipoint Locking Doors, we fit only Anti-Snap Cylinders which are also Anti-Bump & Anti-Drill as standard, and would at no time fit a cylinder that do not meet these standards.
High Security Lock Change
There may be a time when you would like to upgrade your locks, this is most common when you realise your current locks are not protecting your property against lock snapping, in this case you have two options, which depend on your budget, the standard Anti Snap Lock which protects against lock snapping, door bumping & drilling, or you could opt to increase your budget to spend on an High Security Anti Snap Lock that also comes with a protection guarantee by the company Ultion.
uPVC Door Repairs
Our expertise is in all aspects of the trade, including uPVC doors, being a Nottingham locksmith firm, our specialists are trained to work with all type of doors, and to supply and fit all replacement parts. Our specialist locksmiths hold the ability to assess all situations thoroughly and provide professional advice before and after our services are taken.
uPVC Window Repairs
Like with all Doors, our locksmiths in Nottingham are trained to fix all window issues, they can replace all functioning parts, to include handles, full mechanism and broken glass.
Safe Removals
On standby we have specialists available to removal all types of safes, requiring equipment to securely remove and relocate.
Vault Removals
Our vault experts can remove all ex-bank vault doors with heavy duty equipment to dispose or relocate the door if necessary.
Safe & Vault Opening
Has your safe or vault failed to open? commercial safes and vaults require special attention, let our experts assess the situation and advise accordingly.
Master Key Systems
We can design and build a master key system suited to all type of buildings, our team can visit your premises to advise on the solutions available.
Window Boarding
We are available 24 hours a day to board all windows that may have been smashed or broken by accident, call for a quick quote so we can dispatch someone to your location.